28 Days
Until Formula 1 Gulf Air Bahrain Grand Prix 2023
Formula 1 Gulf Air Bahrain Grand Prix 2023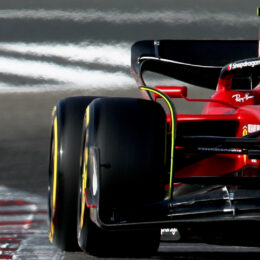 Buy Tickets
Entertainment
Ballerinas Stilt Walkers
Classical ballerinas on stilts, with romantic colourful dresses, have walked away from a wondrous ballet. When these ballerinas turn their pirouettes, their beautiful coloured skirts move spectacularly along. Clouds of tulle wave and swirl synchronously or against each other to the sound of music. It's not easy to balance on pointe but with the instructions from the ballet teacher the complicated choreography will be brought to a great success.
Carnival Batucada
The first and only batucada where all musicians play on stilts. An itinerant music show guides the audience into the world of Brazilian music using typical instruments that characterize carnival sounds of brazil: surdo, samba box, repeniqu and tamboriles. The combination of music and entertainment ensures the animation of the audience.
Butterflies Stilt Walkers
Beautiful giant butterflies on stilts, with exuberant colours, give shape to a wonderful act that brings the public joy and freshness. When these feminine creatures start to move, their garments dance along. A sea of colours spins and waves spectacularly along the bystanders and seems to become one organism.
Flamenco Stilt Walkers
These Flamenco Dancers on stilts are gracious, temperamental señoritas. Beautiful choreographies are being performed at the rhythm of Spanish music by playfully moving their large silk dresses and red fans. The audience will be involved in this dancing show and will dance along and have fun.
Fairy Garden
This show aims to praise the beauty of the flora and fauna that come together to enlighten the world. Flowers and butterflies in the most dazzling colours and shapes. Lively birds, elves, caterpillars and flamingos complete this natural show that will enchant the audience with their grace.
Piano a Pieds
The Piano a Pieds is a huge handmade keyboard installed on the floor and played with the feet by two incredible talented dancers. An innovative show that combines music and dance, having a great impact and the audience is completely involved. After the performance everyone is welcome to play some tunes on the Piano or to just have a musical walk on it.
Prima Band
Prima band turn the street into a real stage where, between gags, choreography, juggling, acrobatics and much more, the audience becomes an integral part of the show. The repertoire also touches different genres, from folk to jazz, classical music to soundtracks, from pop to tango. With their funny looks, cool moves, and engaging rhythms the Prima band overwhelms the audience as only it can do.
Magic Butterflies
Magical and luminous butterflies dancing to the rhythm of the Caribbean parades through the streets, bringing a gust of joy and happiness to the audience. These legendary butterflies represent a wonderful element of fairy tale and fantasy recreating a magical world populated by enchanted characters. Magic Butterflies are agile and fast, acrobatic and playful, equipped with their colourful wings that allow them to fly in the heart of a fantastic and magical Kingdom.
Parkel Drums
An energetic and talented batucada that has been awarded several times all around the world. Parkel Drums is a young group that has established itself as a reference company in the world of percussion performing in all kinds of shows and festivals. Let yourself be carried away by the music and the choreography to the rhythm of the drums in the purest batucada style. There's no doubt that Parkel Drums will leave you speechless.
Ernesto Planas Magic Umbrellas
The show Magic Umbrellas captures the attention of the public and through illusions created using dozens of colourful umbrellas that appear and disappear in the blink of an eye. This Cuban illusionist will bring wonder in perfect Latin style, full of energy, joy, colours and vivacity, combining elegance and charm with a refined technique. Famous above all for his number with umbrellas, for which he won numerous international awards, with his magic he toured the world and shared the scene with the best and famous illusionists worldwide.
Tribal Batucada
The samba reggae percussion Tribal Batucada is known for carrying out energetic, noisy and colourful performances to any corner of the world. It was created in Paris in 1997 by a drummer and composer from Salvador Bahia (Brazil). This group has spread throughout the world and has performed in many of countries with more than 40 bands.
The Beast
The beast it the world's biggest inflatable, Guinnes world record holders and have been in 25+ International events in 2017 & 2018. Unique designs, people think "I felt like a kid again", "Brilliant idea, perfectly executed". Worldwide compliance with health & safety regulations. 30 certified inflatable structures.
Wizards of OZ
Join Dorothy and her canine companion Toto as they're whisked away to the 'Merry Old Land of Oz' in search of the 'Wonderful Wizard of Oz'! Follow Dorothy and Toto on their journey along the yellow brick road as they meet some new friends along the way including the Scarecrow, Tin Man, Lion and Glinda the good Witch! But beware of the Wicked Witch who will stop at nothing to get her hands on those sparkling ruby slippers!
Beauty & The Beast
Meet the beautiful 'Belle' and all your favourite characters from the classic fairy-tale 'Beauty & The Beast' with our own adaptation of this beautiful and magical show! Sing and dance along to some great, fun and popular songs! Featuring stunning costumes and incredible West End quality performers!
Aladdin and the Magic lamp
Join the handsome Aladdin, the beautiful Princess Jasmine, the magical Genie of the Lamp and the evil Jafar as they take you on a magical journey!
Circo di Strada
Circo di Strada is an amazing and varied theatrical performance, a unique combination of multiple circus elements as stilt walking, juggling, unicycling, walking globe and much more! Everyone will enjoy this parade, executed by artists with years of experience in dance, music and circus. The circus parade will walk through the audience to show amazing tricks in combination with great show moments.
UniQcycle
When is it possible to see multiple specially designed Dutch bicycles, combined with colorful costumes and experienced artists? With the roaming street parade: UniQcycle! UniQcycle is a unique mix of special bikes, acrobatics, improvisation, theatre, dance and energy! You will get a smile on you face and will never forget this colorful and happy parade! UniQcycle is the mobile bike parade with unique bikes, ridden by artists in very striking costumes, supported by cheerful matching music.
Cirque Masqué
Top quality artists with an elegant look, will give a chic experience to your audience. Combined with elegant costumes and wonderful music, giving your event a professional and cheerful ambiance. Cirque Masqué amazes with a combination of stilt walking, juggling, diabolo and unicycle.
Ferris Wheel
35 meter height, Capacity 27 GONDOLAS
| | | |
| --- | --- | --- |
| 18:00 – 18:30 | F1 Experiences | F1 Experiences Pit Lane Walk |
| 18:30 – 19:00 | F1 Experiences | F1 Experiences Track Tour and Trophy Photo |
| 19:00 – 20:30 | Promoter Activity | 3 Day Ticket Holders' Pit Lane Walk |
Thursday, 2 March 2023
| | | |
| --- | --- | --- |
| 9:45 – 10:30 | Porsche Sprint Challenge ME | First Practice Session |
| 10:55 – 11:40 | FIA Formula 3 | Practice Session |
| 12:05 – 12:50 | FIA Formula 2 | Practice Session |
| 13:00 – 14:00 | Paddock Club | Paddock Club Pit Lane Walk |
| 13:00 – 14:00 | Paddock Club | Paddock Club Track Tour |
| 14:30 – 15:30 | Formula 1 | First Practice Session |
| 16:00 – 16:30 | FIA Formula 3 | Qualifying Session |
| 16:45 – 17:35 | Paddock Club | Paddock Club Track Tour |
| 16:45 – 17:35 | Paddock Club | Paddock Club Pit lane Walk |
| 18:00 – 19:00 | Formula 1 | Second Practice Session |
| 19:30 – 20:00 | FIA Formula 2 | Qualifying Session |
| 20:25 – 21:10 | Porsche Sprint Challenge ME | Second Practice Session |
Friday, 3 March 2023
| | | |
| --- | --- | --- |
| 11:05 – 11:35 | Porsche Sprint Challenge ME | Qualifying Session |
| 12:15 – 13:00 | FIA Formula 3 | Sprint Race (20 Laps or 40 mins + 1 lap) |
| 13:15- 14:00 | Paddock Club | Paddock Club Pit Lane Walk |
| 13:15 – 14:00 | Paddock Club | Paddock Club Track Tour |
| 14:30 – 15:30 | Formula 1 | Third Practice Session |
| 16:15 – 17:05 | FIA Formula 2 | Sprint Race (23 laps or 45 mins + 1 lap) |
| 17:10 – 17:40 | Paddock Club | Paddock Club Pit Lane Walk |
| 17:10 – 17:40 | Paddock Club | Paddock Club Track Walk |
| 18:00 – 19:00 | Formula 1 | Qualifying Session |
| 19:45 – 20:15 | Porsche Sprint Challenge ME | First Race (11 laps or 25 mins) |
| 20:20 – 21:20 | F1 Experiences | F1 Experiences Champions Club Grid Walk and Trophy Photo |
Saturday, 4 March 2023
| | | |
| --- | --- | --- |
| 11:50 – 12:40 | FIA Formula 3 | Feature Race (23 laps or 45 mins + 1 lap) |
| 13:20 – 14:25 | FIA Formula 2 | Feature Race (32 laps or 60 mins + 1 lap) |
| 14:50 – 15:20 | Porsche Sprint Challenge ME | Second Race (11 laps or 25 mins) |
| 15:50 – 16:50 | Paddock Club | Paddock Club Pit Lane Walk |
| 16:00 – 16:30 | Formula 1 | Driver's Parade |
| 17:44 – 17:46 | Formula 1 | National Anthem |
| 18:00 – 20:00 | Formula 1 | Grand Prix (57 laps pr 120 mins) |
Sunday, 5 March 2023
Support Races
F2 has, and continues to be, the breeding ground for the very best drivers in the world, acting as a…
See Event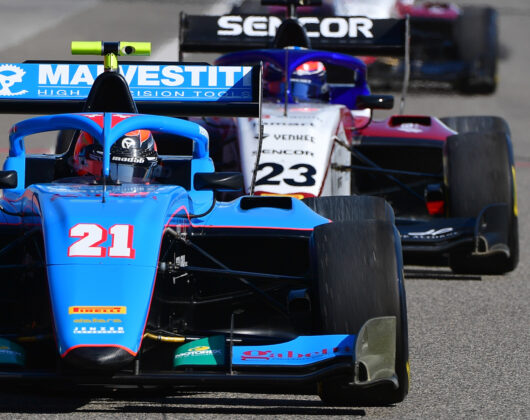 The FIA Formula 3 Championship is an international single-seater series that was launched in 2019 to be the official third…
See Event
The most professional and successful one-make GT series in the region
See Event