7 Days
Until Phase 2 of Early Bird Ends
Formula 1 Gulf Air Bahrain Grand Prix 2023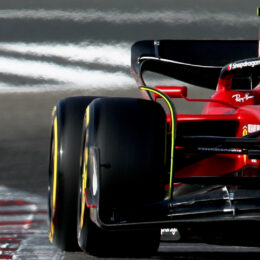 Event Overview
Tickets are now on sale for the 2023 Formula 1 Gulf Air Bahrain Grand prix with as much as 17% off in our Early Bird offer!
View More
Buy Tickets
BIC announces action-packed season of exciting events and experience for 2021/2022
BIC announces action-packed season of exciting events and experience for 2021/2022
International championships to headline racing calendar with Formula 1, WEC, Bahrain ProAm 1000 and Rotax MAX Challenge Grand Finals
BIC partners with Y.K. Almoayyed and Sons to roll out all-new Y.K. Off-Road Experience
McLaren Experience Bahrain—the chance to drive an exclusive supercar on an F1 track—to launch in November
Batelco Fitness on Track returns for new season
Fan-favourite local championships and circuit experiences return for more excitement and thrills!
Bahrain International Circuit (BIC), "The Home of Motorsport in the Middle East", announced today details on a fantastic calendar of events and activities on offer in Sakhir for the 2021/2022 season.
The new season is to be headlined by incredible new experiences, coming to BIC for the very first time, together with major global, regional and national championships, as well as the return of numerous favourite and familiar events, suitable for all the family.
At a Press conference held at BIC this evening, BIC Chief Executive Shaikh Salman bin Isa Al Khalifa outlined all of the plans for the new season. Shaikh Salman commented: "We have spent a lot of time over the last few months planning what we hope will be our biggest and busiest season ever.
"BIC has been a very special place for so many people for so many years and it's a moment of great joy for us to be able to present today such an action-packed season which will cater for all parts of the community.
"It is a new season of great excitement; a mixture of new events and experiences, new racing championships, big international races, major karting events, as well as many of our established popular activities."
International championships: Formula 1, WEC, Bahrain ProAm 1000, Rotax Grand Finals
BIC will once again be hosting the very best of international motorsport in Sakhir.
In just under three weeks, BIC will be welcoming back the Spirit of Le Mans with the first-ever double-header at BIC in the FIA World Endurance Championship (WEC). This is the premier endurance racing series in the world, featuring action in four highly competitive classes, and the Kingdom has been honoured with the privilege of hosting the final two rounds of the WEC's 2021 season.
The back-to-back races will kick off with the Bapco 6 Hours of Bahrain on 29 and 30 October, which will be followed the very next weekend by the Bapco 8 Hours of Bahrain on 5 and 6 November. The six-hour race will take place in daylight conditions, while the eight-hour event will begin in the day and finish under lights.
There will be a grid of 32 cars for the WEC, while the BIC-based Porsche Sprint Challenge Middle East, the region's leading one-make motor racing series, will be held as a support event. There will also be plenty of entertainment off the track for the whole family.
Tickets are available now at BD5 for adults and BD2.5 for children aged three to 12 years old. Various discounts are available for double-header tickets.
Sticking with endurance racing, on 29 January of next year BIC will be hosting a brand-new event, the Bahrain ProAm 1000. This ground-breaking 1,000km GT endurance event is dedicated to ProAm cars, and will become the only global GT endurance race open exclusively to ProAm and Am driver combinations. It will take in 185 laps of BIC's Grand Prix circuit, and is open to GT3, GT4 and Cup classes.
BIC has already received plenty of strong interest from teams wishing to participate, especially from Europe, and more details on the race will be announced very soon.
Meanwhile, Bahrain will also be welcoming one of the biggest karting events in the world at the end of this year, with Bahrain International Karting Circuit (BIKC) hosting the Rotax MAX Challenge Grand Finals.
380 participants are expected, together with over 2,500 team members and guests for the event taking place between 11 and 18 December. Individual country-based qualifying competitions have resulted in the very best karters from over 75 countries being invited to Bahrain for the Grand finals.
The event will also mark, for the very first time, competition exclusively for electric karts—this will be the first-ever electric race of any kind in Bahrain.
BIC rolls out all-new Y.K. Off-Road Experience, in partnership with Y.K. Almoayyed and Sons
In partnership with Y.K. Almoayyed and Sons, this season BIC is rolling out an exciting, all-new activity open to the public in the Y.K. Off-Road Experience.
This will take place along an incredible purpose-built course where those taking part will be able to sample the true ability of the Ford Expedition and the Nissan Patrol vehicles. More details on the experience will be announced in the coming days. At the press conference, BIC expressed its sincerest thanks for this new partnership between BIC and YK Almoayyed & Sons.
First-of-its-kind McLaren Experience Bahrain to launch this November
Another thrilling and all-new offering at BIC this season is the McLaren Experience Bahrain, featuring the very impressive road cars produced by McLaren Automotive.
Last year, BIC was delighted to welcome McLaren Automotive to their new home just by the entrance at BIC. Today, BIC announces an exclusive new track driving experience, organised in collaboration with McLaren Automotive.
Participants will be able to drive a world-leading supercar, the 600LT, along a Formula 1 circuit. The experience is open to drivers of all abilities, with expert tuition to guide clients around the circuit and help them get to grips with the car.
The McLaren Experience Bahrain will officially launch in November and more details will be announced soon.
BIC's fan-favourite experiences and local championships are back!
The all-new experiences at BIC are not the only things fans can look forward to this season as their favourite, long-established activities are back.
This weekend on Friday, 15 October, the first Open Track Night of the season will be held, along with passenger rides in a Radical SR3 and Clio Cup car.
The E.K. Kanoo Drag and Drift Nights are back from October 18, while the Bahrain Drag Racing Championship, BIC's globally recognised series sanctioned by the U.S.-based National Hot Rod Association (NHRA), gets underway on 16 November with the first of five action-packed rounds.
The new season of the BIC 2,000cc Challenge has already kicked off and there will be plenty more racing in the seven-round campaign.
Furthermore, the popular Batelco Fitness on Track programme resumes later this month following sell-out events that took place last season. The programme encourages people in Bahrain to get fit and healthy and come down to use the circuit for cycling and running. Batelco Fitness on Track is on offer for people of all ages and abilities.
To conclude the Press conference, Shaikh Salman said: "When we tell people that we host around 400 events per year, many are surprised by that. I hope from all of this, you can see how we are able to ensure that the BIC offers the best events and experiences throughout the season, and why we call ourselves 'The Home of Motorsport in the Middle East'."
Highlights