WEC 8 Hours of Bahrain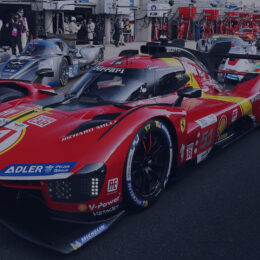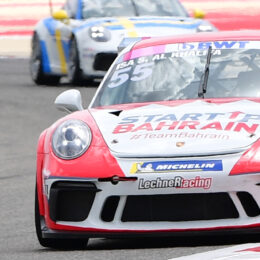 Buy Tickets
Vaxiviere tops afternoon session for Alpine Elf Team in WEC Rookie Test at BIC
Vaxiviere tops afternoon session for Alpine Elf Team in WEC Rookie Test at BIC
Matthieu Vaxiviere of Alpine Elf Team was fastest today in the afternoon session of the World Endurance Championship's (WEC) season-ending Rookie Test, held at Bahrain International Circuit (BIC) in Sakhir just a day following an exciting and drama-filled Bapco 8 Hours of Bahrain.
The French driver steered his team's #36 Alpine A480-Gibson to a best lap time of one minute 49.769 seconds during the three-hour test. He completed a total of 47 laps in the cockpit.
Alpine led all four Hypercars that took to BIC's 5.412-kilometre track in the day's afternoon running.
Toyota Gazoo Racing's Jose Maria Lopez, behind the wheel of the race-winning #7 GR010 Hybrid, was second-best in the session with a quickest time of 1:49.939 with 82 laps completed.
The pair of 9X8 Hypercars of Peugeot TotalEnergies followed, with the #93 of Mikkel Jensen clocking 1:50.107 and 69 laps, and the #94 of Malthe Jakobsen going fastest at 1:50.222 with 74 laps.
Toyota's Hypercar drivers' world title-winning #8 car did not participate in afternoon testing.
Leading the LMP2 class was Prema Orlen Team's Bent Viscaal in their #9 Oreca 07-Gibson with a best lap of 1:52.644.
Nicolas Varrone powered Corvette Racing to the top amongst LMGTE Pro testers with a fastest lap of 1:59.405 in his Chevrolet Corvette C8.R.
Setting the pace in the LMGTE Am class was Team Project 1's Mikkel Pedersen, going for a 1:59.865 time in his #46 Porsche 911 RSR-19.
Earlier in the day in the two-hour morning test, Lopez was quickest in Toyota's #7 car with a best lap time of 1:48.812 and 38 laps of work. His time was quickest for the day overall.
Jakobsen and Maximilian Gunther in the pair of Peugeot 9X8s followed in second and third, respectively, with Jakobsen going for a 1:49.600 time with 38 laps in the session and Gunther at 1:49.827 with 41 laps.
Lady driver Lilou Wadoux was classified fourth in her #8 Toyota while Andre Negrao was the last amongst the Hypercars in his #36 Alpine.
In the LMP2 class, United Autosports USA's Nelson Piquet was fastest in the #22 Oreca 07-Gibson with a best lap of 1:51.922.
Nick Tandy driving Corvette Racing's #64 Chevrolet Corvette C8.R led the LMGTE Pro class in 18th overall with a top lap of 1:58.622, while Team Project 1's #46 Porsche 911 RSR-19 driven by Maxime Oosten set the pace amongst LMGTE Am participants with a fastest lap of 2:00.749.
A total of 23 runners took part in each of today's two sessions in the Rookie Test, which officially brought the 2022 WEC season to a close at BIC.
Images