57 Days
Until 2022 Formula 1 Gulf Air Bahrain Grand Prix
2022 Formula 1 Gulf Air Bahrain Grand Prix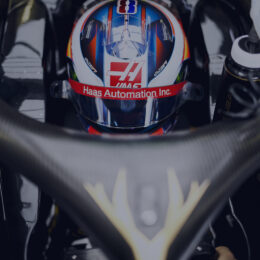 Event Overview
Be the first to witness a new era of F1. Discounted early bird tickets for the Gulf Air Bahrain Grand Prix are on sale now.
View More
Buy Tickets
Al Balooshi leads Jackson to Bahrain1 one-two in Pro Mod class of drag racing championship at BIC
Al Balooshi leads Jackson to Bahrain1 one-two in Pro Mod class of drag racing championship at BIC
Bahrain1 Racing team upheld their perfect record in the Pro Mod category of the 2021/2022 Bahrain Drag Racing Championship after posting a fantastic one-two in the season's third round, which culminated last weekend at Bahrain International Circuit (BIC) in Sakhir.
Defending champion Khaled Al Balooshi stormed to yet another impressive win but only by the narrowest of margins from Bahrain1 teammate and NHRA World Champion Stevie "Fast" Jackson.
The pair went head-to-head in the meeting's final and put on a thrilling show. Al Balooshi had a run of 3.737 seconds at 319.60kph in his Gen 3 Camaro Blower, beating Jackson by just six-hundredths-of-a-second down an eighth-mile's distance along the BIC strip.
Jackson's time of 3.797s came with a 318.89kph top speed in his Camaro Gen 5 2021 challenger.
It was the third win in as many rounds for Al Balooshi, maintaining his pristine record so far in the Kingdom. The Emirati appears well on his way to claiming back-to-back Pro Mod titles in the Bahrain championship.
Completing the Pro Mod podium-placers was former champion Hani Hussain in third place.
More than 200 competitors from across the Gulf and the U.S. gathered at "The Home of Motorsport in the Middle East" to take part in the round, which marked the midway point of the season. They battled it out in 13 competition categories along BIC's world-class quarter-mile strip, which is a member of the Worldwide Network of the U.S.-based National Hot Rod Association (NHRA).
Homegrown Bahraini talents were winners in seven of the race classes.
Abdulla Yaqoub triumphed in the 10.0 Index class after beating Abdulaziz Al Qattan in the final. Abdulrahman Asker finished third. Ali Khamiri won the 9.0 Index category beating Nasser Adel Alghanem, with Tariq Mahmood coming third.
Jassim Mohamed Saleh triumphed in the Outlaw 4-Cylinder class after clocking a pass of 10.420s in the final at 214.21kph, beating Mahmood Saleh's time of 13.625s. Zakrya Al Kuwari came third.
Yousif Alzayani won the Outlaw 6-Cylinder category with an 11.154s run to beat Nawaf Almanai, who did not register a time in their final duel. Faisal Alarab claimed third.
Hussain Mohammed followed suit, winning the Pro 29.5 V8 class with a 4.057s mark at 297.14kph. He beat Abdulla Al Shamsi's 6.688s time, with Nabeel Al Isa coming third.
Two Bahrainis were then winners in the motorbike classes. Hasan Salman took first place in the Street Fight Bikes 9.5 class after beating Yousef Al Holi, despite both riders having breakouts. Hamad Ahmed finished third.
Mohammed Hasan triumphed in the 8.5 Index Bikes class, clocking an 8.895s time at 213.37kph in the final to beat Mohammed Al Taitoon's 9.121s run. Ali Bahram took the other podium step.
Elsewhere in the round, Abdulrahman Alkaabi from the UAE won the 8.5 Index class for cars with an 8.591s final pass at 243.92kph. Hussain Almahroos was the runner-up and Hussain Abduljalil came third.
Sayed Hussain Al Hadad from Kuwait won the 7.5 Index category after beating Mohammed Suliman, with Abdulla Al Oqab taking third place. His countryman Fawaz Karam triumphed in the Competition 4.5 class with a final run of 4.511s at 247.56kph, beating Obaid Al Balooshi. Bassel Ebraheim Abbas came third.
Mishari Al Turki from Saudi Arabia won the Pro Street Bikes class ahead of Jehad Al Jamal, who didn't register a time in their final. Khalid Al Fowzan took the other podium step.
Mohammed Al Awwad from Kuwait rounded off the winners by taking the Outlaw Bikes category with a 4.291s elapsed time at 257.96kph. Khalid Aldosary was the runner-up and Al Fowzan was once again third.
Following all the action, the top three in each class were presented their trophies in their respective podium ceremonies by officials from BIC, Bahrain Motor Federation, Bahrain Drag Racung Club and Bahrain Motorcycle Club.
With three rounds of the season complete, the stage is set for the final two meetings, which are set to be held on back-to-back weekends next month. Round four will take place 8 to 11 February, followed by the season-finale between 15 and 18 February.
Images