WEC 8 Hours of Bahrain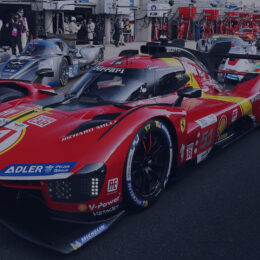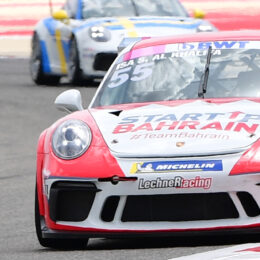 Buy Tickets
Al Zubair, Chadwick steal the show with fantastic Speed Weekend at BIC
Al Faisal Al Zubair and Jamie Chadwick were the stars of the second and final day of a hugely thrilling Speed Weekend, hosted by Bahrain International Circuit (BIC) in Sakhir.
Al Zubair completed a clean sweep of the second round of the 2018/2019 Porsche BWT GT3 Cup Challenge Middle East; while Chadwick continued to make history after winning the weekend's final two sprints in the MRF Challenge.

Also taking place during Speed Weekend was action in four national championships, and each series produced a double-winner.
Shaikh Salman bin Isa bin Ebrahim Al Khalifa won both races in the BIC 2,000cc Challenge, while Mika Perez won both sprints in the Bahrain Motorcycle Racing (BMR) 600. Masoud Behbehani followed suit with a double in the Bahrain Superbike Championship, as did Abdul Samee who won both races in the Bahrain Super Sport Championship (BSSP) 125.
The Porsche GT3 Cup and MRF events took place on BIC's 5.412km Grand Prix track, while the national races were held along BIC's 2.55km Inner Circuit.

In the Porsche GT3 Cup, Al Zubair added to his Race One win from the day prior by taking the weekend's second and third races in the series.
In Race Three, the Team Oman ace clinched the chequered flag following a tight battle with Berkay Beslar, with only 0.728 seconds separating the two. Al Zubair had won from pole position, while Michael de Quesada rounded out the podium placers 2.129s slower than Al Zubair. Each of the top three were also first through third in the Pro category.
Winning the ProAm class was Saul Hack ahead of His Highness Shaikh Isa bin Abdulla Al Khalifa of Team Bahrain. The other Team Bahrain driver in the race was Shaikh Ali bin Mohammed Al Khalifa, who was 10th overall and seventh in the ProAm class. The Am category was clinched by Michael Knutzon.

In Race Two held earlier in the day, Al Zubair maintained his hot pace from the day before. He triumphed in the 14-lap second sprint with a winning time of 29 minutes 09.909 seconds.
De Quesada was the runner-up 7.865s behind, while Besler rounded out the podium placers after finishing 8.868s back. They were all in the Pro class.
Winning the ProAm category was Leon Koehler ahead of Team Bahrain's His Highness Shaikh Isa bin Abdulla, who was fifth overall. Shaikh Ali bin Mohammed was 11th overall amongst 16 drivers and seventh in the ProAm class.
In the MRF Challenge, Chadwick was setting new benchmarks in Sakhir.
After becoming the first-ever female driver to win an international race at BIC the previous day, Chadwick followed it up with another two wins to wrap up Speed Weekend. The results earned Chadwick a fantastic treble of victories in the two-day event, having taken the second, fourth and fifth races in the India-based championship.

The Briton capped the last day's action by taking Race Five ahead of Max Defourny of Belgium, with only 1.066 seconds separating the top two. Danial Frost from Singapore finished third 10.053s back.
Earlier in Race Four, Chadwick clinched the 10-lap sprint after beating Czech Petr Ptacek by 2.505s while German Andreas Estner came third 4.202s back.
In the BIC 2,000cc Challenge, Shaikh Salman bin Isa bin Ebrahim Al Khalifa scored a fantastic double. Driving a white Honda Civic, he won the first race ahead of Ahmed Bin Khanen by 1.429s. Bin Khanen was driving his white Civic EG4. Tareq Al Tajer claimed third 12.011s behind. All three were competing in the Pro class.
Martyna Al Qassab in a blue Honda Integra DC5 won the Novice class ahead of Giovanni Saerno in a blue Ford Focus and Ahmed Al Ghatam in a yellow Civic.

In Race Two, Shaikh Salman was once again joined by Bin Khanen and Al Tajer on the podium, with Bin Khanen finishing 2.844s behind him as the runner-up and Al Tajer 6.456s back in third place.
In the BMR 600, Mika Perez finally ended the reign of Ahmed Almuyini, who has been dominating the series in recent years.
Perez claimed a double for the round, finishing ahead of Almuyini both times. He won Race One 0.160s ahead of his rival and then took Race Two by 2.952s. Fahad Al Gharabally claimed third place in both races.
In the BSBK, Masoud Behbehani enjoyed dominant wins for his own double. He won Race One with a massive 36.271s lead from Najati Barakat, while Hussain Al Aswad came third. Behbehani then claimed Race Two by 13.545s ahead of runner-up Al Aswad, with George Mokbel in third place.
In the BSSP 125, Abdul Samee took both sprints. He first beat Yusuf Qaed by 14.067s to claim Race One, and then followed that up with a win by 5.221s in Race Two, also ahead of Qaed. Paul Gill was third in both events.