WEC 8 Hours of Bahrain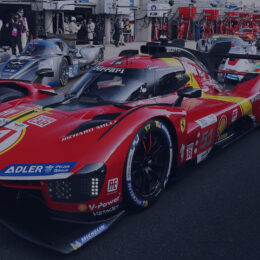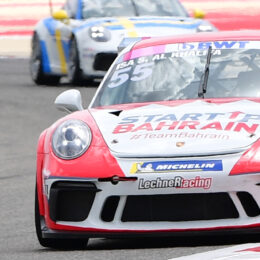 Buy Tickets
Al Zubair, Defourny, Chadwick triumph as Speed Weekend flags off at BIC
Al Faisal Al Zubair, Max Defourny and Jamie Chadwick all had reason to celebrate today as Speed Weekend flagged off in fantastic fashion at Bahrain International Circuit (BIC) in Sakhir.
Al Zubair won Race One in the Porsche BWT GT3 Cup Challenge Middle East, while Defourny triumphed twice and Chadwick once in the visiting India-based MRF Challenge.

Both the Porsche BWT GT3 Cup and the MRF Challenge are headlining Speed Weekend at BIC, which also features four other national racing series.
The other championships include the BIC 2,000cc Challenge, the Bahrain Motorcycle Racing (BMR) 600, the Bahrain Super Sport Championship (BSSP) 125 and the Bahrain Superbike Championship (BSBK). Their races today continued well into the night.
Al Zubair claims fine win from pole in Porsche BWT GT3 Cup
Al Zubair was a clear favourite from the early stages of today's racing, claiming pole position for Race One in the Porsche BWT GT3 Cup Challenge Middle East, which is holding its second round of the 2018/2019 season.
The Team Oman ace had a best lap time of 2 minutes 02.720 seconds around BIC's 5.412-kilometre track.

His Highness Shaikh Isa bin Abdulla Al Khalifa of Team Bahrain also secured a front row grid position after qualifying second with a lap 0.235s behind Al Zubair. Berkay Besley qualified third 0.307s off the pace, and Leon Koehler was fourth 0.510s from first.
Shaikh Ali bin Mohammed Al Khalifa of Team Bahrain qualified 12th overall 2.050s behind the pole-winner.
Al Zubair later completed the weekend's opening 14-lap sprint in first place with a winning time of 29m 18.522s. He was 4.976s ahead of runner-up His Highness Shaikh Isa bin Abdulla Al Khalifa, while Michael de Quesada rounded out the podium placers in third.
Al Zubair was not only the overall winner, he also claimed first place in the Pro category.
His Highness Shaikh Isa bin Abdulla was the winner of the ProAm class, while Michael Knutzon was first in the Am category.
Team Bahrain's Shaikh Ali bin Mohammed Al Khalifa was 11th overall and seventh in the ProAm category.
Action continues Saturday for the Porsche BWT GT3 Cup, with Qualifying Two and Three and then Race Two and Three to wrap up the weekend.

Defourny doubles, Chadwick triumphs in MRF Challenge
In the MRF Challenge, Defourny claimed a fine double after the first three of five races in Speed Weekend were completed today.
In Race One, the Belgian powered to an impressive win after completing the 10-lap sprint just 0.301 seconds ahead of runner-up Chadwick of Great Britain.
Andreas Estner from Germany was third 0.340s behind.
In Race Two, Chadwick made up for earlier missing out on first place and clinched the chequered flag by the narrowest of margins. After starting from third on the grid, Chadwick was engaged in a tight battle with Defourny, and at the end only 0.108s separated the pair.
Dylan Young of Australia took the third podium step 0.760s behind Chadwick.
Defourny finally ended a near-perfect first day in Speed Weekend with the Race Three win. This time he was classified ahead of Estner by a comfortable 7.273s. Patrick Pasma from Finland came third 10.233s off the winning pace.
Action in the MRF Challenge continues Saturday with Races Four and Five on the cards. All are welcome to attend the day's events. Tickets are available at the gate at BD2 for adults and BD1 for children.