Formula 1 Gulf Air Bahrain Grand Prix 2023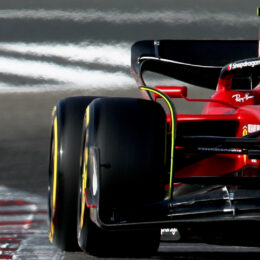 Event Overview
Details on the 2024 Formula 1 Gulf Air Bahrain Grand Prix will be announced soon. Pre-register now to be the first to hear about details for tickets and presale offers for registered customers.
View More
More info
Belgian pair Den Tandt and Weerts capture double pole in GT3 Nation Cup
Team Belgium clinched a double pole today for the two Qualifying Races of the FIA GT Nations Cup, headlining the Bapco Bahrain GT Festival at Bahrain International Circuit in Sakhir.

Mike Den Tandt set the fastest time in Qualifying 1 to take the leading grid position for Qualifying Race 1, taking place later tonight at 7.30pm.
Countryman Charles Weerts then took over in Qualifying 2 and claimed first on the start grid for Qualifying Race 2, scheduled to take place on Saturday.
Both drivers were competing in their team's Audi R8 LMS.
In Qualifying 1, Den Tandt had a best lap of 2m 01.397s. He was 0.353s ahead of the UK's Christopher Buncombe in a Ferrari 488 GT3, while Argentina's Jose Manuel Balbiani was third in a Lamborghini Huracan GT3, 0.723 from the leader.
Turkey, Thailand, Belarus, Sweden, Italy, Hong Kong and Mexico made up the top 10. The rest of the pack featured, in order, featured Denmark, Germany, France, Russia, Australia, China, Malaysia and Japan.
In Qualifying 2, Weerts set a fastest time of 2m 00.136s in the second of five laps of work in the 20-minute session.
Weerts was 0.510s ahead of Denmark's Nicklas Nielsen who qualified second in a Ferrari 488 GT3. Turkey's Ayhancan Guven was third in a Mercedes – AMG GT3, clocking 0.547s slower.
The top three were followed by France, Italy, the UK, Argentina, China, Germany and Sweden in the top 10. The rest of the classification featured included, in order, Russia, Belarus, Australia, Hong Kong, Malaysia, Thailand, Mexico and Japan.
Qualifying Race 1 will be the next and final session for the FIA GT Nations Cup today on day one of the Bapco Bahrain GT Festival.