Formula 1 Gulf Air Bahrain Grand Prix 2023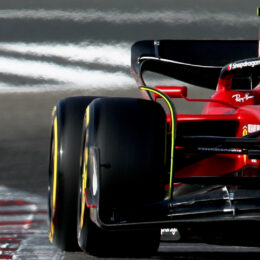 Event Overview
Details on the 2024 Formula 1 Gulf Air Bahrain Grand Prix will be announced soon. Pre-register now to be the first to hear about details for tickets and presale offers for registered customers.
View More
More info
BIC all geared up to host three full days of F2 and F3 pre-season testing this week
BIC all geared up to host three full days of F2 and F3 pre-season testing this week
Bahrain International Circuit (BIC) is set to host three full days of pre-season testing this week in the FIA Formula 2 Championship and the FIA Formula 3 Championship.
Formula 1's two chief feeder series, featuring motor racing's stars of tomorrow, will be hitting the tarmac from Tuesday to Thursday (14 to 16 February) for the joint-sessions.
They will be warming up the track at "The Home of Motorsport in the Middle East" in preparation for the start of their respective 2023 seasons, taking place as part of the stellar support programme at this year's F1 Gulf Air Bahrain Grand Prix from 3 to 5 March.
The tests will be held along BIC's 5.412-kilometre Grand Prix circuit.
On each of the three days, F2 and F3 will be alternating track time. F3 will be the first to go testing in the morning from 9am to 11.30am, and then again in the afternoon from 2.30pm to 5pm. F2's schedule on track will be from 11.45am to 2.15pm and then again from 5.15pm to 7.45pm on all the days.
This week's action is crucial for the F2 and F3 teams and ace pilots, as it will be the only on-track running they have ahead of their upcoming campaigns.
F2 is the last rung on the ladder to F1, with many drivers who have graduated from F2 now starring in the top flight. Among them are Charles Leclerc of Ferrari, George Russell of Mercedes, Lando Norris of McLaren, Alexander Albon of Williams, Yuki Tsunoda of AlphaTauri and Zhou Guanyu of Alfa Romeo, along with the incoming Oscar Piastri of McLaren and Nyck De Vries of AlphaTauri.
All 11 F2 teams, each fielding two cars, will be at the tests, including defending champions MP Motorsport, Carlin, ART Grand Prix, Prema Racing, Hitech Grand Prix, Dams, Virtuosi Racing, PHM Racing by Charouz, Trident, Van Amersfoort Racing and Campos Racing.
Meanwhile, F3 is also a one-make category that is the official third rung of the "Road to F1".
The series' 10 teams make for a 30-car grid, and they will all be at BIC this week. The field includes reigning teams' champions Prema Racing, who will be going up against Trident, ART Grand Prix, MP Motorsport, Hitech Grand Prix, Van Amersfoort Racing, Carlin, Campos Racing, Jenzer Motorsport and PHM Racing by Charouz.
F2 and F3 will each hold two races during the Bahrain Grand Prix weekend, along with practices and qualifying. Both series' Sprint Races will take place on the Saturday with the Feature Races to follow on Sunday, while practice and qualifying are scheduled for Friday.
The 2023 F2 season is set to feature 14 rounds, flagging off in Bahrain and concluding in November in Abu Dhabi, while the 2023 F3 championship consists of 10 rounds, beginning at BIC and ending in September in Monza.
A number of the F2 and F3 talents are currently junior drivers with F1 teams, and they will be able to showcase their skills in front of a global audience that includes the F1 community they will be hoping to impress.
At the Bahrain Grand Prix, F2 and F3 are to be joined on the support progrmame by the Porsche Sprint Challenge Middle East.
Images