27 Days
Until Formula 1 Gulf Air Bahrain Grand Prix 2023
Formula 1 Gulf Air Bahrain Grand Prix 2023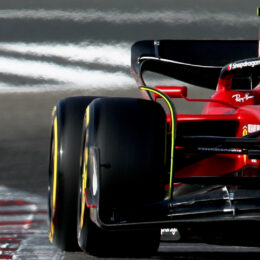 Buy Tickets
BIC stage set for FIA WEC spectacle in Bapco 8 Hours of Bahrain
BIC stage set for FIA WEC spectacle in Bapco 8 Hours of Bahrain
Final round of WEC's milestone 10th anniversary season to be held Saturday in Sakhir
Open Paddock, Pit Walk, Autograph Session and family entertainment await race-goers off the track
Tickets available at the circuit, with gates opening at 10am
Toyota Gazoo Racing power to top of the timesheet in third WEC practice session
Mikel Azcona grabs pole for WTCR Race One, Harry King takes double pole for Porsche sprints
Bahrain International Circuit (BIC), "The Home of Motorsport in the Middle East", brings the spirit of Le Mans to Sakhir on Saturday (12 November) with the Bapco 8 Hours of Bahrain, the highly anticipated final round of the 2022 FIA World Endurance Championship (WEC).
The eight-hour endurance spectacle flags off with a rolling start at 2pm and ends under lights at 10pm.
BIC is inviting the general public to be a part of this prestigious world championship event that features the elite of global endurance motor racing. Gates are scheduled to open at 10am and close at 10pm.
Tickets can be bought at the circuit or online at BIC's official website bahraingp.com. They cost just BD5 for adults and BD2.5 for kids.
Aside from the WEC, which is bringing the curtain down on its milestone 10th anniversary season in Bahrain, there is plenty of other action being held on track with the WTCR Race of Bahrain, part of the WTCR-FIA World Touring Car Cup, and the BIC-based Porsche Sprint Challenge Middle East.
All fans attending Saturday will enjoy unparalleled access to the heart of the WEC with an open paddock—unique to this weekend and a fan-friendly initiative that can be enjoyed by all.
Race-goers will have the fantastic opportunity to see what goes on behind the scenes in the WEC Paddock. This is where the participating team buildings are located to accommodate the series' star drivers and all team members while at the circuit. The Paddock is also where the teams have the entrances to their garages, so fans will more than likely bump into the WEC's biggest talents as they make their way around the facility and also witness team preparations for the racing action.
To complement the racing, BIC has lined up plenty of family entertainment at BIC's vending area. These include a kids' zone, stunt performances, a classic car show and live music.
Furthermore, those attending Saturday's programme will be treated to a Pit Walk and Autograph Session. The Pit Walk is scheduled to begin at 12noon and will continue until 12.45pm, while the Autograph Session will be taking place during the Pit Walk between 12.05pm and 12.35pm.
Fans looking to take part in the Pit Walk are advised to be there early as the gate will close for the activity 10 minutes before the end.
In the Pit Walk, race-goers will be able to see the WEC teams and their cars in their garages while their mechanics and engineers are hard at work. The Autograph Session will feature all of the WEC's stars, who will each take some time out of their busy schedules to meet with Bahrain's fans, take pictures, and sign all kinds of memorabilia—making for a truly memorable occasion.
Both the Pit Walk and Autograph Sessions are highly sought-after activities and all ticket-holders will be able to take part at no extra cost. Fans must take full advantage of this invaluable opportunity to interact with motorsport's endurance racing icons.
Toyota Gazoo Racing set pace in third WEC practice
Toyota Gazoo Racing powered to the top of the timesheet in the third and final WEC Free Practice of the Bapco 8 Hours of Bahrain today.
After finishing behind Hypercar rivals Peugeot TotalEnergies in the first two sessions on Thursday, Toyota have responded in the concluding 60-minute Practice with the trio of Kamui Kobayashi, Jose Maria Lopez and Mike Conway setting the pace in their #7 GR010 Hybrid with a best lap time of one minute 48.384 seconds.
Teammates Sebastien Buemi, Brendon Hartley and Ryo Hirakawa in the #8 Hypercar followed in second place with a fastest lap 0.364 seconds slower.
Peugeot were classified third and fourth in their 9X8 challengers, with their #94 crew of Loic Duval, Gustavo Menezes and Nico Muller going 1.151s off the leading pace, followed by the #93 trio of Jean-Eric Vergne, Paul Di Resta and Mikkel Jensen who finished 1.895s behind.
Alpine Elf Team's #36 A480-Gibson driven by Andre Negrao, Nicolas Lapierre and Matthieu Vaxiviere were fifth overall with a 1.944s gap, completing the Hypercar class.
Leading the LMP2 category were the WRT crew of Rene Rast, Sean Gelael and Robin Frijns, who steered their #31 Oreca 07-Gibson to a best lap of 1:51.792.
Porsche GT Team's #91 Porsche 911 RSR-19 driven by Richard Lietz and Gianmaria Bruni set the pace amongst the LMGTE Pro competitors with a fastest time of 1:57.089.
In the LMGTE Am, Team Project 1's #46 crew of Matteo Cairoli, Mikkel Pedersen and Nicolas Leutwiler were quickest with a lap of 2:00.079 in their Porsche 911 RSR-19.
The WEC field now head for Qualifying today afternoon with the LMGTE Pro and Am session at 4.50pm, followed by the Hypercar and LMP2 at 5.10pm.
Azcona grabs pole for WTCR's first race
Mikel Azcona captured pole position for the first race of the WTCR Race of Bahrain, being held this weekend at Bahrain International Circuit in support of the Bapco 8 Hours of Bahrain.
The Spaniard clinched the leading grid position after clocking a fastest lap of two minutes 11.061 seconds in his Hyundai Elantra N TCR in Q3 of the series' Qualifying today.
Azcona outpaced Nathanael Berthon of France by 0.114 seconds, while starting from row two will be Nestor Girolami (+0.160s) from Argentina and Norbert Michelisz (+0.361s) from Hungary. Taking fifth on the grid was Nicky Catsburg from the Netherlands, who was the last participant in Q3.
Eliminated from Q2 were Attila Tassi from Hungary, Gilles Magnus of Belgium, Esteban Guerrieri and Franco Girolami from Argentina, Mehdi Bennani from Morocco, and Daniel Nagy and Bence Boldizs from Hungary.
Out of running at the end of Q1 were Tom Coronel from the Netherlands, Tiago Monteiro from Portugal and Viktor Davidovski from North Macedonia.
The WTCR's first race of the weekend is scheduled for a 7.05pm start this evening.
Harry King claims double pole for Porsche Sprint Challenge opening round
Harry King clinched double pole today for the first round of the 2022/2023 Porsche Sprint Challenge Middle East, taking place in support of this weekend's Bapco 8 Hours of Bahrain.
In Qualifying, King posted a fastest lap time of two minutes 02.757 seconds. That earned him the leading grid position for Race One, taking place later this evening, flagging off at 5.50pm.
The Briton's second-fastest lap of 2:03.017 secured him pole for Race Two, which is set to be held Saturday.
Set to start alongside him on row one in both races is Harri Jones from Australia, whose best time in Qualifying was 2:03.335 and second-best was 2:03.568.
Ariel Levi from Israel and Bandar Alesayi from Saudi Arabia will be on row two of the grid in the first sprint. In race two, starting alongside Levi from fourth will be Bashar Mardini of Canada.
Amongst the GCC drivers, Bahrain's Shaikh Salman bin Rashid Al Khalifa will be starting both races second with Alesayi the leader.
Mardini has pole for both races amongst the ProAm competitors, while Mark J. Thomas, also from Canada, starts as the Am leader in race one and Cedric Chassang of France in race two.
Images