Formula 1 Gulf Air Bahrain Grand Prix 2023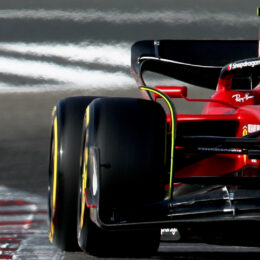 Event Overview
Details on the 2024 Formula 1 Gulf Air Bahrain Grand Prix will be announced soon. Pre-register now to be the first to hear about details for tickets and presale offers for registered customers.
View More
More info
Daruvala tops F2 field while Maloney goes fastest in F3 as pre-season testing gets underway at BIC
Daruvala tops F2 field while Maloney goes fastest in F3 as pre-season testing gets underway at BIC
Jehan Daruvala and Zane Maloney topped their respective opening day timesheets today in Formula 2 and Formula 3 pre-season testing at Bahrain International Circuit (BIC) in Sakhir.
Lawson clocked the day's fastest lap amongst the F2 runners, while Maloney set the overall pace in the F3 sessions.
Today's action along BIC's 5.412-kilometre Grand Prix track marked the first of three days of the pre-season tests for Formula 1's two feeder series.
The F2 and F3 fields are back in action Thursday (3 March) at "The Home of Motorsport in the Middle East" for another full day of running. The two championships will be alternating track time.
The F3 field will be first to hit the tarmac from 9am to 11.30am, to be followed by F2 between 11.45am and 2.15pm. The F3 contenders will then return for their afternoon session from 2.30pm to 5pm, and then F2 will wrap up the day's running between 5.15pm and 7.45pm under BIC's bright floodlights.
Daruvala was the overall fastest in the F2 field with a top lap time of one minute 42.074 seconds. His best mark came in the evening session when he was out for 25 laps.
The Prema Racing ace was followed on the timesheet by Calan Williams of Trident who had a best time of 1:42.590, while last year's F3 champion Dennis Hauger, also of Prema, came third in 1:42.602.
Liam Lawson, who had the best time in the morning test, followed in fourth for Carlin, while his teammate Logan Sargeant came fifth, with Felipe Drugovich of MP Motorsport sixth.
All of the day's best times were from the evening test, with Lawson's best from the morning at 1:44.522.
A total of 22 F2 cars were on track for today's sessions.
Meanwhile, Maloney had the best time of the day of 1:47.614 amongst the F3 runners. He posted his top mark during the afternoon session when he completed 23 laps in his Trident challenger.
Maloney was previously second in the morning session behind Arthur Leclerc, the younger brother of Ferrari F1 star Charles Leclerc. Leclerc, driving for Prema Racing, had a best lap of 1:48.005.
Second-fastest overall on the day was William Alatalo of Jenzer Motorsport with a best lap of 1:47.783, while Leclerc's Prema teammate Jak Crawford had the third-quickest time of 1:47.799.
Maloney's Trident teammate Roman Stanek followed in fourth, Franco Colapinto of Van Amersfoort Racing was fifth and Victor Martins of ART Grand Prix was classified sixth overall. Each of their best times were set in the afternoon tests.
A total of 29 cars took part in today's F3 sessions.
F2 and F3 are testing in Sakhir in preparation for the start of their 2022 seasons, which will be held in support of this year's F1 Gulf Air Bahrain Grand Prix from 18 to 20 March.
It is the third successive year that F2 has chosen BIC for its first on-track action of the year, while F3 also had pre-season running here in 2020.
This year's F2-F3 joint-tests will be followed by F1 pre-season testing, also to be held over three days, from 10 to 12 March. That will set the stage for the F1 season's opening round in Bahrain, which is set to be an historic, once-in-a-generation event that will usher in "A New Era" in F1 following the biggest shake-up of rules and regulations in modern motorsport history.
Images