WEC 8 Hours of Bahrain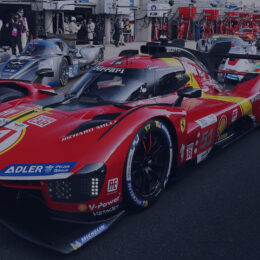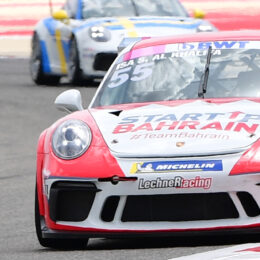 Buy Tickets
First-ever GT4 season finale set for Bapco GT Festival at BIC
Only a few days remain before the Bapco Bahrain GT Festival takes Bahrain International Circuit (BIC) by storm, and for those competing in the first-ever GT4 International Cup, the event is set to mark a spectacular end to their 2018 racing season.
Organised and promoted by SRO Motorsports Group, the newly created event to be held this Friday and Saturday (November 30 and December 1) will bring together an impressive group of teams and drivers currently competing in GT4 series across the globe, making for a fitting conclusion to what has been a landmark year for the category.
Launched by SRO in 2006, the GT4 concept has enjoyed rapid growth in recent seasons, with domestic and international championships featuring increasingly competitive grids. This led to calls for a standalone event that drew GT4 entrants from around the world and the resulting GT4 International Cup has been well received.
A field of 21 cars made up of two-driver crews will contest the inaugural race, with class honours at stake in the Pro-Am (Gold-Bronze), Silver Cup (Silver-Silver) and Am (Bronze-Bronze) categories.

The two-day event format will see a pair of free practice sessions take place on Friday, allowing competitors more than two and a half hours to learn the BIC track and optimise set-ups for the evening's qualifying sessions.
These will set the grids for a pair of 60-minute qualifying races, with the first staged on Saturday morning and a second in the afternoon. The results of these will establish the starting order for the final showdown: a 60-minute main race under the lights on Saturday evening.
The international significance of the event has attracted a high calibre of entrants from across the GT4 spectrum, including a number of title winners.
Among them are German outfit Phoenix Racing (Audi R8 LMS), which will bring reigning GT4 European Series drivers' champions Milan Dontje and Nicolaj Moller Madsen to the Bapco Bahrain GT Festival.
FFSA GT4 France title winners Fabien Michal and Gregory Guilvert will resume their partnership for Sainteloc Racing (Audi R8 LMS), while fellow French outfit TFT SO24 (Porsche Caymen) will field GT4 European Series Am class champion Niki Leutwiler in Bahrain.
A total of 10 manufacturers will be present at the event. In addition to the aforementioned Audi and Porsche entries, fellow German brands BMW and Mercedes-AMG will also be on the grid. A trio of British marques will be represented thanks to Aston Martin, McLaren and Ginetta, while the addition of Alpine, KTM and Maserati will ensure a truly international contest.

The GT4 International Cup is only one of three exciting series taking place as part of the Bapco Bahrain GT Festival. The other two include the headlining FIA GT Nations Cup and the Bahrain Classic Challenge.
Tickets for the Bapco Bahrain GT Festival are already being sold on BIC's official website, www.bahraingp.com, through the BIC Hotline on +973-17-450000, and at the BIC stand at Bahrain City Centre. They cost BD5 apiece for adults and BD2.5 for teenagers aged 13 to 17. Those 12 years old and younger can attend for free.
Ticket-holders will be able to watch the racing action from either the Main Grandstand or Batelco Grandstand, or both, and will also be able to roam the circuit at their leisure.
Aside from the racing, the Bapco Bahrain GT Festival will include loads of off-track family fun and entertainment, including carnival rides, parlour gam es, extreme experiences, children's activities, and the like.