Formula 1 Gulf Air Bahrain Grand Prix 2023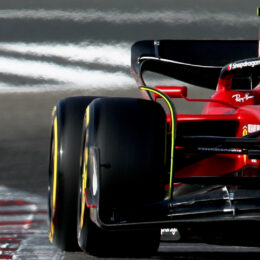 Event Overview
Bahrain has the honour of again opening the 2023 season, so fans in Bahrain will be the first to see the new cars, new driver line ups and all the uncertainty and anticipation that the first race of a new season brings.
View More
More info
Lapierre steers Alpine Elf Matmut to top of the timesheet in WEC Rookie Test at BIC
Lapierre steers Alpine Elf Matmut to top of the timesheet in WEC Rookie Test at BIC
Nicolas Lapierre set the overall pace today in the World Endurance Championship's (WEC) season-ending Rookie Test at Bahrain International Circuit (BIC) in Sakhir.
The Alpine Elf Matmut driver steered his team's #36 Alpine A480-Gibson to a fastest lap time of one minute 48.697 seconds during the two-hour morning session. He completed a total of 96 laps for the day, and registered a best time of 1:48.875 in his afternoon run, which was held over three hours.
Lapierre led all five drivers who piloted their respective Hypercars around BIC's 5.412-kilometre track in both of the day's sessions.
Second-quickest overall was Mike Conway behind the wheel of Toyota Gazoo Racing's #7 GR010 Hybrid Hypercar. He had a best time of 1:48.865 during the morning test. Teammate Sebastien Buemi in Toyota's #8 Hypercar was third fastest today, clocking a lap of 1:49.017 in the afternoon.
Charles Milesi and seven-time World Rally Champion Sebastien Ogier also got some time to test the Toyota Hypercar in both sessions today.
Leading the Le Mans Prototype (LMP) 2 class was Sophia Floersch, who steered their #31 Oreca 07-Gibson to a best lap of 1:50.870 during the afternoon session. She was amongst the busiest drivers of the day, completing 102 laps of running.
JOTA's Jazeman Jaafar and DragsonSpeed's Sebastian Montoya followed second and third in class, respectively.
Kevin Estre of Porsche GT Team was quickest amongst the Le Mans Grand Touring Endurance (LMGTE) Pro runners. He had a best time of 1:57.583 in his #92 Porsche 911 RSR-19 car, which he set in the afternoon.
Alessandro Piere Guidi for AF Corse was second-fastest in his #51 Ferrari 488 GTE Evo and Richard Lietz in the #92 Porsche GT Team car came third.
The LMGTE Am class was paced by Andrew Watson in TF Sport's #33 Aston Martin Vantage AMR. He had a best lap of 1:58.403 during the morning runs.
Watson also clocked the second and third best times in the category driving the #98 Aston Martin Racing car as well as the #777 D'Station Racing challengers, respectively, both of which were also Vantage AMRs.
A total of 18 cars featuring 43 drivers were entered in today's Rookie Test, which officially brought the 2021 WEC season to a close at BIC.
Gallery