2022 Formula 1 Gulf Air Bahrain Grand Prix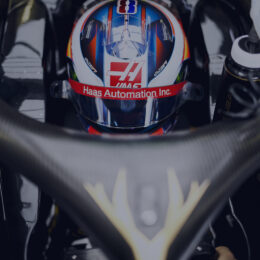 Event Overview
Be the first to witness a new era of F1. Tickets are on sale now for the 2022 Formula 1 Gulf Air Bahrain Grand Prix
View More
Buy Tickets
Leclerc dominates down under
Leclerc dominates down under: Analysis of the welcome return of the Australian Grand Prix, brought to you by Bahrain International Circuit
The winner's trophy for the Australian Grand Prix is a silver replica steering wheel of the 1959 Cooper-Climax T51, as driven by Australian Sir Jack Brabham. It's one of the best looking trophies on the calendar and carries a huge weight of history alongside it. Sir Jack won the drivers' championship in that 1959 Cooper, but only after his car ran out of fuel in the final race and he had to push it over the line to finish fourth and claim the points he needed for the championship. As Charles Leclerc raised this famous trophy for Ferrari on the podium in Australia this weekend, his experience could not have been more different. His total dominance of the race from start to finish was compelling and his ease of victory a reminder to every other team in F1 that they have a long way to go to match the Italian team.
Qualifying on Saturday was a reasonable sign of things to come, with Leclerc qualifying on pole three tenths ahead of Verstappen, with his Red Bull teammate in third. For the first time this season, both McLaren and Mercedes qualified well taking the next four positions, whilst Sainz was unlucky in the second Ferrari, with his final session interrupted by a red flag.
Leclerc got off to a solid start for the race and was noticeably quicker than Verstappen. Even two safety cars in the first half of the race could not put a stop to his progress as he was consistently around half a second quicker than Red Bull. The first safety car was caused by a Sainz error beaching his car at turn 9 which put an end to his race. The second safety car was caused by a Vettel crash ending a miserable weekend for him, at what was his first race of the season after recovering from Covid. The issue for Aston Martin – as with all the teams – is that the cost of accident repairs can have a material impact on managing the annual cost cap. Under the new rules, each team has a cap of $140m. Every time a new front or rear wing needs replacing, that represents an amount of money that can't be spend on research and development and bringing in car upgrades. Adding Vettel's race incident to the three crashes the team endured the previous day, it can quite quickly become a major issue. Vettel said after the race that their 2022 season could not have started any worse, so there will be big hopes for improvements in the short-term.
Max Verstappen on the other hand, had different problems. Not only was his Red Bull off the pace compared to Leclerc, an issue – thought to be fuel-related – meant his car stopped on track on lap 39, putting an end to his race. That's the second time he has failed to finish in just three races this season. It leaves him sixth in the championship and a full 46 points behind Leclerc. After the race, Verstappen said that he wasn't even thinking about the championship at the moment as they are so far behind.
Elsewhere, what looked like an improved Mercedes delivered George Russell his first podium for his new team. Whilst he was fortunate with timings of safety cars as well as Verstappen's DNF, he will take some confidence from that result. His teammate Hamilton was just behind him in fourth. McLaren also looked to have made progress, with a double points finish of fifth and sixth for Norris and Ricciardo. The message, however, from both teams was similar. McLaren has not yet delivered substantial upgrades to the cars and felt that their car was simply more suited to the Albert Park circuit. Mercedes also felt that they haven't materially improved their car, but have managed to find a way to extract the most out of it compared to previous races.
Overall, there is a feeling from every team outside of Ferrari that they have much to do to improve their performance. Worryingly for those teams, however, is that Ferrari feel that the next race at Imola in two weeks will be even more suited to their car. It also happens to be their home race, so the expectation from the Tifosi will be understandably sky high.
A final word should go to the Australian Grand Prix itself, which returned to the calendar after its Covid absence. An incredible 420,000 people attended over the race weekend, making it the biggest single sporting event ever in Australia. That is a well-deserved recognition of a circuit with so much history and character, which continues to develop and modernize. Whilst the Australian fans did not get their dream of Ricciardo matching a Jack Brabham winning performance, just having F1 back in the great city of Melbourne was enough to keep fans more than happy.
Highlights