WEC 8 Hours of Bahrain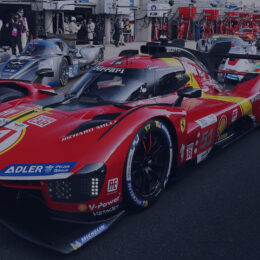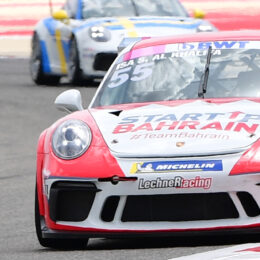 Buy Tickets
Levi scores Porsche Sprint Challenge ME double in near-perfect weekend at BIC
Levi scores Porsche Sprint Challenge ME double in near-perfect weekend at BIC
Ariel Levi raced to an impressive double in the second round of the 2022/2023 Porsche Sprint Challenge Middle East, held over the weekend at Bahrain International Circuit (BIC) in Sakhir.
The Israeli driver nearly had a perfect meeting after also clinching pole position and clocking the fastest laps for both sprints, held around the world-renowned 5.412-kilometre Grand Prix track at "The Home of Motorsport in the Middle East".
A total of 18 drivers from around the world went bumper-to-bumper in identical Porsche 992 GT3 Cup cars over two days.
In the round's first race on Friday, Levi took the chequered flag in a time of 33 minutes 10.347 seconds over 14 laps. He was 1.463 seconds ahead of Ghislain Cordeel from Belgium, while Florian Janits from Austria took the other podium place 4.567s behind.
Levi fastest lap in race one was 2:03.843.
The top three overall were also the leading finishers amongst the Pro class drivers.
Bahrain's Shaikh Salman bin Rashid Al Khalifa continued his impressive return to competition. He was classified second amongst GCC drivers and sixth overall, 10.350s from Levi. Bandar Alesayi from Saudi Arabia was the top GCC finisher, while his countryman Khaled Alzayed followed in third.
Clinching first place in the ProAm class was Georgi Donchev from Bulgaria, with Shaikh Salman taking second and Bashar Mardini from Canada third.
Mark J Thomas, also from Canada, won the Am category ahead of Cedric Chassang from France and Merabi Mekvabishvili.
In race two, Levi secured his back-to-back pole-to-flag wins in a total time of 31:46.667. Janits was this time the runner-up, while Alex Malykhin from Great Britain came third overall 6.187s back, while also winning first place in the ProAm category.
Shaikh Salman finished third amongst GCC entrants, with Ahmad Al Shehab from Kuwait and Alesayi ahead of him.
Joining Malykhin on the ProAm podium were Donchev and Al Shehab, both of whom completed the overall top five.
The Am class podium featured Chassang, Thomas and Mekvabishvili.
Levi once again had the fastest lap, clocking a mark of 2:03.160.
There are six rounds overall in the 2022/2023 season of the Porsche Sprint Challenge Middle East. Round three will take place at Yas Marina Circuit in Abu Dhabi on 28 and 29 January, followed by round four on 4 and 5 February at Dubai Autodrome.
The series then returns to BIC for its penultimate round from 3 to 5 March in support of the Formula 1 Bahrain Grand Prix, before heading to Jeddah for the Formula 1 Saudi Arabian
Grand Prix on 17 to 19 March for the season-finale.
Images