Formula 1 Gulf Air Bahrain Grand Prix 2023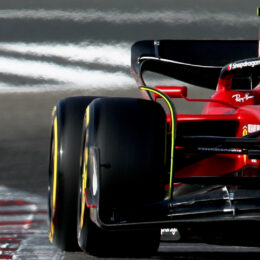 Event Overview
BIC is set to celebrate its 20th anniversary next year, as the opening round of the 2024 season and its first-ever Saturday night race at the Home of Motorsport in the Middle East on 29 February to 2 March 2024.
View More
More info
Raed Raffii crowned back-to-back champion in BIC 2,000cc Challenge
Raed Raffii crowned back-to-back champion in BIC 2,000cc Challenge
Raffii ends 2021/2022 2, season with fine double
Andreas Buelow emerges as Novice class winner
Raed Raffii was crowned back-to-back champion in the BIC 2,000cc Challenge over the weekend.
Raffii clinched his second successive title after winning both races in the 2021/2022 season's seventh and final round, held as part of National Race Day at Bahrain International Circuit (BIC) in Sakhir.
Raffii's double in the championship finale marked his fifth and sixth wins of the 14-race season. He also finished on the podium in every other sprint without any DNFs—making for a fantastic campaign.
The past weekend's events took place along BIC's 2.55-kilometre Inner Track. All the action was held under BIC's bright floodlights, and there was plenty of heated wheel-to-wheel racing from the get-go.
Raffii's chief title rival Raed Himmo started the round off by topping the Practice timesheet. His best lap was one minute 19.341 seconds in his Honda Civic.
Himmo continued his impressive pace in Qualifying, where he captured pole position for the meeting's first race after clocking a best lap time of 1:17.901. He narrowly outpaced Raffii for pole by just 1.048 seconds.
At the lights to start Race One, Raffii had the better getaway and headed into the first turn with the lead in his Honda S2000. Pole-sitter Himmo was struggling and was quickly out of the top places.
Novice class competitors Andreas Buelow and Wiebke Buelow gained the positions behind Raffii midway through the race, and the trio held on all the way to the chequered flag. Raffii took the overall win while also finishing first amongst the Pro category competitors in a total race time of 18:19.852 over 12 laps.
Andreas Buelow was the overall runner-up and Novice class winner 3.242s behind Raffii, while Wiebke Buelow came third 5.699s back. Both drivers were behind the wheel of their respective Honda Civics.
Majed Himmo came fourth overall also driving a Honda Civic, while Raed Himmo had to settle for fifth. They also took the other two Pro class podium places. Andrew Ray driving a Honda Integra DC2 was the race's only other participant, and he was not classified.
In Race Two, Raed Himmo and Majed Himmo were on the front row, with Raffii on row three alongside Ray and behind the Buelow pair.
Raed Himmo got away well but late in the first lap, with Raffii behind him, experienced some car trouble and was forced to pull over on the side of the track to retire.
Raffii inherited the lead and powered to the finish in a time of 15:58.222 for the season-ending victory. Andreas Buelow and Wiebke Buelow once again joined Raffii on the overall podium, finishing 7.738s and 52.680s behind, respectively, after 12 laps.
Ray was the final driver classified in fourth place nearly two minutes from the winner.
To go with his two wins, Raffii also clocked the fastest lap in both of the round's sprints. For Race One, Raffii had a quickest time of 1:18.938, while in Race Two it was 1:17.098.
Raffii ended the season with 301 points in first place on the overall championship standings. His campaign-ending double and Raed Himmo's bad luck in the finale gave Raffii a comfortable 65-point lead on the table.
Andreas Buelow came third overall and was also the Novice class champion with 129 points. He was able to come out on the winning end of a tight battle for the lower-tier crown against Ali Al Mansoori, who finished just narrowly behind with 122 points.
Pro class participant Nasser Al Alawi finished fifth, also on 122 points, while Wiebke Buelow was sixth on 113 points, Majed Himmo seventh on 105 points, and Ray eighth on 88 points.
Images