Formula 1 Gulf Air Bahrain Grand Prix 2023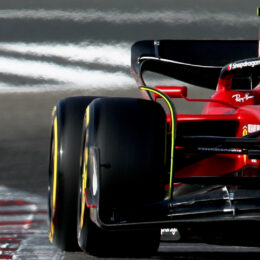 Event Overview
BIC is set to celebrate its 20th anniversary next year, as the opening round of the 2024 season and its first-ever Saturday night race at the Home of Motorsport in the Middle East on 29 February to 2 March 2024.
View More
More info
Red Bull makes the most of Ferrari misery
Red Bull makes the most of Ferrari misery: Analysis of Verstappen's win in The Azerbaijan Grand Prix, brought to you by Bahrain International Circuit
In its relatively short history, the Azerbaijan Grand prix has created a reputation for a chaotic and action-filled race. The street circuit nature of the track inevitably punishes driver errors, with an appearance of the safety car pretty much guaranteed. However, unlike some tight street circuits, there are also plenty of overtaking opportunities, not least at turn one, which follows a mammoth 2km main straight.
Throughout the early part of the weekend, it was very clear that this would be another Red Bull vs Ferrari affair. In qualifying, it was Charles Leclerc who continued his Saturday form, qualifying first, delivering his sixth pole in eight races. The concern for Ferrari, however, was that their qualifying pace does not always translate into Sunday, and with the long straight favoring the Red Bull straight line speed advantage, you would not have wanted to predict a winner for this one. Carlos Sainz qualified fourth, with the Ferrari cars sandwiched between Perez in second and Verstappen in third. As has emerged in the last few races, Perez seems to have a renewed vigor to his driving and certainly does not seem to be accepting a second fiddle role to the World Champion. That's a dynamic which could become very interesting, not least in relation to team orders as the season progresses.
As the race got underway, Perez, perhaps helped by his new-found confidence, got off to a better start with Leclerc locking up into turn one. Behind those two, it was generally a clean start with Verstappen tucked in behind, followed by Sainz, Russell, Gasly and Hamilton.
What followed in the space of just ten laps was a failure for Ferrari that without doubt will have a massive impact on the championship. Firstly, Sainz on lap 10 had a hydraulic issue and was forced to pull over and retire. Then, just ten laps later, Leclerc had a major engine failure and was also out. To make matters worse for Ferrari, Magnussen and Zhu, also racing Ferrari engines, suffered similar failures. The series of retirements delivered two virtual safety cars, which then dedicated changes of strategies as team took the chance for cheap pit stops.
This all meant that we were slightly robbed of the usual Baku classic. With no full safety cars and a dominant pair of Red Bulls at the front, in the end it was an easy win for Verstappen, with Perez second and Russell third. So, it was down to a scrapping midfield to provide the afternoon entertainment. Hamilton – who later won driver of the day – benefited from some good strategy calls to move up the field to finish fourth. Such was the poor drivability of his Mercedes that he could barely get out of the car at the end he was in so much pain. Other notable performances were Gasly in fifth, followed by Vettel, Alonso, Ricciardo and Norris taking a double points finish for McLaren and Ocon completing the top ten.
However, the main takeaway will be Ferrari's reliability concerns. It's hard to overestimate the importance of reliability when it comes to chasing a World Championship. This was the second retirement for Leclerc this season and the third for Carlos Sainz. As a reminder, with 25 points for a win and 18 for second, assuming your nearest rival finishes second it would take four consecutive race wins to make up the gap for a single race retirement. The current drivers points table really emphasizes that issue. Leclerc, now third in the championship with 116 points, is just 17 points ahead of George Russell. Even the most hardcore Mercedes fan wouldn't suggest that the Silver Arrow is that close in pace to Leclerc. The reason? Russell has finished every race in the top five this season. Leclerc has taken six pole positions this year, whilst Russel's car has been described by his own colleagues as undrivable. Time will tell whether Ferrari can recover from this, but there is no doubt that they have taken a considerable hit this weekend.
F1 teams now make a hasty trip to Montreal for next weekend's Canadian Grand Prix for the first time since 2019. It's up there with the very best historic F1 venues and one that we at the BIC always follow closely as a calendar highlight.
Highlights