85 Days
Until Formula 1 Gulf Air Bahrain Grand prix 2023
Formula 1 Gulf Air Bahrain Grand Prix 2023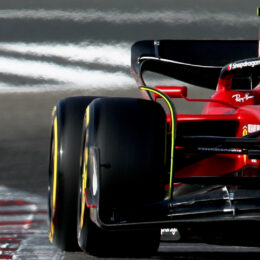 Event Overview
Tickets are now on sale for the 2023 Formula 1 Gulf Air Bahrain Grand prix with as much as 17% off in our Early Bird offer!
View More
Buy Tickets
Russell's dramatic victory acts as the perfect answer to Sakhir 2020
Russell's dramatic victory acts as the perfect answer to Sakhir 2020: Analysis of a weekend of drama and surprises at the Brazilian Grand Prix
There are countless iconic and memorable photographs of the 19 years of racing in Bahrain. One that sometimes springs to mind is that of George Russell lying on the grass next to our media centre at BIC looking totally dejected, following the 2020 Sakhir Grand Prix. He had stepped in last minute as a replacement for Hamilton at Mercedes and had driven the race of his life. It should have been his first win in F1, but a catalogue of team errors took it away from him and that image showed a man hurting. At that sage, he did not know when his next opportunity would come.
He had high hopes when joining Mercedes at the start of 2022, but errors in car development soon put a dampener on thoughts of winning a race this season. However, a series of gradual improvements over the year had given the team some hope and Mercedes' were optimistic that Brazil could be a chance to at least get something from the season.
It came as no surprise, therefore, that the was an outpouring of huge emotion from the British driver when he crossed the line on Sunday to secure his maiden F1 victory. After the race, he spent time recogninsing all those who had made this possible, from his parents taking him karting from an early age, to the opportunity he was given by Toto Wolf. Indeed, Wolf was asked after the race whether this win made up for the failure two years ago in Bahrain. Wolf certainly thought so.
What was fascinating about this race weekend is that this was one of a number of dramas which kept fans enthralled over the three-day format, which included the Saturday sprint race. Qualifying on Friday produced perhaps the biggest surprise of the year, as a rain effected session caused all sorts of upsets. Remarkably, it was Kevin Magnussen who made the most of the conditions securing his and Haas' first ever pole. For an independent team that puts in so much effort and work, it must have been a truly sweet feeling for Gunther Steiner and the rest of his team. That episode of Drive to Survive will be one to get the popcorn out for.
In the race itself, George Russell got off to the perfect start, ahead of his teammate. Behind them, however, there was plenty of drama. Ricciardo made contact with Kevin Magnussen on lap one. That caused both of them to retire, a safety car and a three race grid penalty for the last race in Abu Dhabi for the Australian.
There was more drama on the restart on lap 7 when Verstappen tried to take Hamilton on the inside of turn 1 and they touched. Verstappen was deemed at fault and was given five second time penalty. Verstappen had to go in for a new wing too, so effectively put an end to his race. Then on the very same lap there was contact between Norris and Leclerc. Although Leclerc ended up in the wall, he was somehow able to carry on. Whilst Norris was also able to continue, he was out on lap 52 with a technical error which led to another safety car and a grandstand finish, fitting of this epic weekend. Russell managed to hold on ahead of Hamilton, with Carlos Sainz completing the podium.
Overall, it shouldn't be underestimated how important this race win was for Mercedes. Of course, it was good to end their winless streak this season, but these recent major upgrades for the car have put them right at the front again. With the cars staying largely the same for next season, they could well be right back in the mixer for 2023.
At the other end of the scale, it was a weekend to forget for Red Bull. Leaving aside Verstappen's penalty, they were noticeably off the pace. Perhaps more worryingly, though, is a swiftly merging tension between the two drivers. Verstappen was asked by the team to give way to Perez on the final lap, to help the Mexican in his fight for second in the championship. This was flatly refused by Verstappen and the reaction from Perez was noticeably strong. Perhaps this could all be put down to end of season fatigue, but Red Bull will be all too aware of the difficulties that these types of tensions can cause within the team.
Looking back on this dramatic race week, all these stories act as a reminder that F1 is tough and requires incredible work and dedication. For Russell, Brazil represented a reward from those early weekend mornings at karting tracks across the UK and counteracting the pain of being so close at Sakhir 2020. For Haas, it was a case of persistent hard work, investment and overcoming all the challenges that go with being an independent team, that delivered that one moment of unadulterated joy. These emotions are something that fans can really relate to, so it's no wonder why F1 is booming across the world right now.
Highlights