Formula 1 Gulf Air Bahrain Grand Prix 2023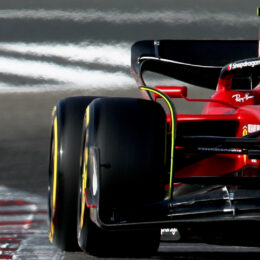 Event Overview
Details on the 2024 Formula 1 Gulf Air Bahrain Grand Prix will be announced soon. Pre-register now to be the first to hear about details for tickets and presale offers for registered customers.
View More
More info
Team Belgium shine brightest in GT Nations Cup as Bapco GT Festival flags off at BIC
Team Belgium had a strong opening day today in the FIA GT Nations Cup, which made its global debut headlining the Bapco Bahrain GT Festival at Bahrain International Circuit (BIC) in Sakhir.
After securing a double pole for both of the meeting's Qualifying Races, the Belgian outfit were also ahead of the rest at the end of Qualifying Race One.
The FIA GT Nations Cup is the headlining event of the weekend. There was also plenty of action today in the first-ever GT4 International Cup and the Bahrain Classic Challenge.
The GT4 International Cup saw Phoenix Racing and Sainteloc Junior Team share the day's honours by each grabbing pole position ahead of their two Qualifying Races; while the duo of Oliver and Grahame Bryant captured pole for Race One in their 1964 Shelby Cobra for the Bahrain Classic Challenge.
Action continues Saturday (Editor's note: December 1) at the festival. All are welcome to attend.
Tickets cost BD5 apiece for adults and BD2.5 for teenagers aged 13 to 17. Those 12 years old and younger can attend for free. Ticket-holders will be able to watch the racing action from either the Main Grandstand or Batelco Grandstand, or both, and will also be able to roam the circuit at their leisure.
Belgian ace Charles Weerts steered his nation to first place in Qualifying Race One held along a brilliantly lit 5.412-kilometre Grand Prix track.

Weerts completed 27 laps in his Audi R8 LMS challenger and was an impressive 24.855 seconds ahead of the rest of the pack.
Finishing in second place was Turkey's Ayhancan Guven in a Mercedes-AMG GT3, while in third was Matteo Cressoni flying the Italian flag in a Ferrari 488 GT3 12.168s behind Guven.
The UK's Christopher Froggatt, also in a Ferrari 488 GT3, was classified fourth; while Jim Pla of France in a Mercedes-AMG GT3 claimed fifth place overall. Rounding out the top eight were Ezequiel Perez Companc of Argentina in sixth, Deni Bulatov of Russia in seventh and Nico Bastian of Germany in eighth.
Ninth through 18th, respectively, were Hong Kong, Belarus, Sweden, China, Australia, Malaysia, Mexico, Japan and Thailand. Denmark were not classified.
Qualifying Race Two is scheduled for Saturday at 1.15pm. Belgium's other driver, Mike den Tandt, is set to take over the duties behind the wheel.
According to officials, the average of each team's results from both Qualifying Races will determine the grid for the FIA GT Nations Cup's Main Race, which will be the weekend's feature event starting at 7.30pm Saturday night.
Meanwhile, Phoenix Racing claimed pole for the GT4 International Cup's Qualifying Race One while Sainteloc took the leading grid position for Qualifying Race Two. Both Qualifying Races are to be held on Saturday (Editor's note: December 1).
Phoenix Racing's Nicolaj Moller-Madsen and Milan Dontje claimed their starting place after clocking a fastest lap of 2:11.555 in their Audi R8 LMS GT4.
Competing in the same car model, Sainteloc's Fabien Michal and Gregory Guilvert qualified in second 0.667s behind. Phoenix Racing's second challenger, with Gosia Rdest at the wheel, was third 1.601s back.
For Qualifying Race Two, Sainteloc's other car driven by Michael Blanchemain and Steven Palette were the pole-sitters. They had a best lap of 2:11.191 in their Audi R8 LMS GT4.
Teammates Michal and Guilvert were 0.521s behind in second, with Phoenix's Moller-Madsen and Dontje in third 0.891s off the winning pace.

Qualifying Race One in the GT4 International Cup is scheduled for 10am Saturday, while Qualifying Race Two will be at 2.45pm. The average of each team's two best times will then determine the starting grid for the Main Race, which follows at 5.45pm in the evening.
Earlier in the day today, CMR topped the timesheets in both GT4 International Cup practices.
In Free Practice One, which kicked off the day's action at the Bapco Bahrain GT Festival, CMR clocked a best lap time of 2:12.291 in their Alpine A110 GT4 car. The French outfit featuring drivers David Loger and Antoine Leclerc registered a top speed of 147.28kph.
CMR were once again the pace-setters as the second Free Practice. The Alpine A110 GT4 car driven by the pair of Pierre-Alexandre Jean and Pierre Sancinena had a fastest lap time of 2:12.846.
In the Bahrain Classic Challenge, the Bryants, driving a 1964 Shelby Cobra, claimed pole position for Race One. They shone brightest under BIC's floodlights and clocked a best time of 2:20.628 to grab the leading place on the start grid.
The Christophe Van Riet-Caroline Grifneee duo were second in a 1965 Shelby Cobra 289. They were 3.872s behind. Qualifying third 6.402s off the leading pace were the team of Edwin Stucky and Ludovic Cholley driving a 1964 Shelby Cobra Daytona.
Each of the top three were competing in the GTS12 class.
Race One is scheduled to take place Saturday at 11.30am. Race Two is at 4.15pm. That will mark the championship's season finale.
Earlier in the day, the Bryants topped the Practice timesheet. Competing in the GTP11 class, they posted a fastest lap of 2:24.501s with a 134.83kph top speed.
The 1960 Maserati T61 of Guillermo Fierro was second overall 3.675s behind, while van Riet and Grifnee were classified third 4.048s from the leaders. Fiero was competing in the TSRC5A class.
The weekend's events have been organised by BIC in cooperation with the SRO Motorsports Group.
Aside from the racing, the Bapco Bahrain GT Festival includes loads of off-track family fun and entertainment, such as Monster Truck shows, carnival rides, parlour games, extreme experiences, children's activities, and the like.
To find out more about the Bapco Bahrain GT Festival, visit bahraingp.com or call the BIC Hotline on +973-17-450000. Also, follow BIC's official social media accounts on Facebook (facebook.com/OfficialBahrainInternationalCircuit), Twitter (@BAH_Int_Circuit), Instagram (instagram.com/bah_int_circuit) and YouTube (youtube.com/bahrainbic) for regular updates.
SATURDAY'S TIMETABLE
Time Category Session
10am-11am GT4 International Cup Qualifying Race 1
11.30am-12.30pm Bahrain Classic Challenge Race 1
1.15pm-2.15pm FIA GT Nations Cup Qualifying Race 2
2.45pm-3.45pm GT4 International Cup Qualifying Race 2
4.15pm-5.15pm Bahrain Classic Challenge Race 2
5.45pm-6.45pm GT4 International Cup Main Race
7.30pm-8.30pm FIA GT Nations Cup Main Race