Formula 1 Gulf Air Bahrain Grand Prix 2023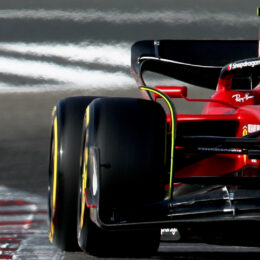 Event Overview
BIC is set to celebrate its 20th anniversary next year, as the opening round of the 2024 season and its first-ever Saturday night race at the Home of Motorsport in the Middle East on 29 February to 2 March 2024.
View More
More info
Verstappen takes 8th consecutive win, in dominant Spa performance
Verstappen takes 8th consecutive win, in dominant Spa performance: Analysis of the Belgium Grand Prix, brought to you by Bahrain International Circuit
When you get to the stage in a race when Max Verstappen is asking whether his team would like some pitstop practice, having started in sixth place due to a grid penalty, leading a race by almost 20 seconds, ahead of a car which is supposed to be as fast as his, you know you are witnessing something totally dominant. So, as the Verstappen train carried on with his eighth win in a row, it was for the rest of the field to try and work out how they can get anywhere close to the current World Champion.
In was another F1 sprint weekend in Spa, which means plenty of opportunities for points in a midfield that continues to be competitive and engaging for fans. It was also a weekend which suffered from consistent and often strong rain showers, not least in the sprint race on Saturday, which suffered a delayed start under full wet conditions. When the sprint race finally got underway for the shortened 11 lap dash, all cars pitted within the first two laps to switch from the mandatory full wet to intermediate tyres. Initially, this benefited Oscar Piastri in the McLaren who had qualified second, but his lead did not last long as Verstappen soon caught up for an overtake and a fairly straightforward win. There was some encouragement for Ferrari, with Leclerc taking third, followed by Sainz, and the other McLaren of Norris just behind. Gasley and Hamilton completed the top 8 points scoring positions.
Qualifying for the main race became even more relevant, with Verstappen's five place penalty, due to a changed gearbox over the allocation. It was left to Charles Leclerc to take the top spot, with Perez sharing the front row, followed by Hamilton, Sainz and the on-form Piastri.
It was an amazing start for Red Bull as the race got underway, with Perez leading after a strong start, with Verstappen up to fourth. But there was disaster for Piastri who had a tangle with Sainz going into turn one and he stopped at the end of that lap, with Sainz also suffering from unrecoverable damage.
By lap six, Verstappen managed to ease past Hamilton and just three laps later overtook Leclerc, to leave him just behind Perez. By lap 17, Verstappen took the lead. The overtake of his teammate looked far too easy. Yes, he had DRS, but the way he swooped past Perez showed he is a class apart. It was an effortless overtake.
There was some potential for jeopardy around lap 20 when the expected rain arrived, but it turned out not to be enough for intermediate tyres, but lap times did tumble for a fifteen-minute period. From there, Verstappen was unbothered, as was the other Red Bull of Perez, who took the top two on the podium, whilst Leclerc drove a fairly easy race for a comfortable third. Hamilton took fourth, together with the bonus point for fastest lap after a late pit stop, with Alonso fifth, followed by Norris, Ocon and Stroll.
As the last race before the four-week summer break and the traditional 'silly season', where the news agenda tends to focus on driver movements for next season, there are a number of teams and drivers with plenty to prove. Sergio Perez will feel somewhat uncomfortable, given the 125 points between him and his teammate Verstappen and his recent run of disappointing qualifying performances. Whilst his race performance – not least last week – has delivered some recoveries, Red Bull are not known for their patience (as Nyck de Vries found out a couple of weeks ago) and he will need to show that he can be up there with his teammate.
Aston Martin have fallen somewhat from the heights of Alonso's podium at the start of the season, with recent updates seeming to deliver mixed results. They will want to show a clear roadmap for progress during the rest of the season. As for Alpine, even before the weekend had started there had been more changes announced following the recent departure of its CEO Laurent Rossi. Otmar Szafnauer departed following this race, together with their sporting director. At the same time, it was a bump down to earth this weekend for McLaren, with Spa in the dry showing their weakness in straight line speed. Having said that, their incredible turnaround in fortunes over the last few races leaves much room for optimism. As for Mercedes and Ferrari? Toto Wolf believes Mercedes are on the right trajectory, but they are far from happy in the midfield, whilst Ferrari remains baffled by an erratic car. Leclerc said yesterday that understanding this strong performance in Spa would be important as they plan the remainder of the season.
F1 takes its traditional four-week summer break before returning for the Dutch Grand Prix on 27 August.
Highlights