2022 Formula 1 Gulf Air Bahrain Grand Prix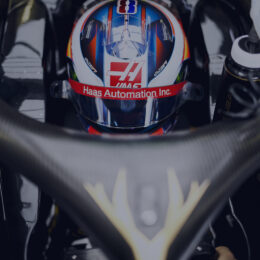 Event Overview
Be the first to witness a new era of F1. Tickets are on sale now for the 2022 Formula 1 Gulf Air Bahrain Grand Prix
View More
Buy Tickets
Kobayashi-Conway-Lopez secure season-ending pole for Toyota Gazoo Racing at BIC
Kobayashi-Conway-Lopez secure season-ending pole for Toyota Gazoo Racing at BIC
Bapco 8 Hours of Bahrain set for 2pm rolling start on Saturday, with tickets still available at bahraingp.com
Toyota Gazoo Racing seal front-row lockout for second weekend in a row in Sakhir
Leading their classes on the start grid are United Autosports USA in LMP2, Porsche GT Team in LMGTE Pro, Cetilar Racing in LMGTE Am
Schuring claims race one victory in Porsche Sprint Challenge Middle East season-opener
Toyota Gazoo Racing's Kamui Kobayashi-Mike Conway-Jose Maria Lopez secured the final pole position of the 2021 FIA World Endurance Championship (WEC) season today, setting the stage for a thrilling Bapco 8 Hours of Bahrain on Saturday (November 6) at Bahrain International Circuit (BIC).
Kobayashi was behind the wheel of their #7 GR010 Hybrid Hypercar for Qualifying and he powered to a fastest lap of one minute 46.250 seconds to clinch the leading grid place.
He finished the session a mere 0.290 seconds quicker than Brendon Hartley in Toyota Gazoo Racing's #8 car, which he shares with Sebastien Buemi-Kazuki Nakajima.
Set to start third overall will be fellow-Hypercar competitors Alpine Elf Matmut, with their #36 crew of Maththieu Vaxiviere-Nicolas Lapierre-Andre Negrao. They were 0.775s off the pole-sitters' pace in their Alpine A480-Gibson.
Elsewhere on the race's start grid, United Autosports USA's #22 Oreca 07-Gibson, driven by Filipe Albuquerque-Phil Hanson-Fabio Scherer will start in first amongst the Le Mans Prototype (LMP) 2 runners.
Porsche GT Team's #92 Porsche 911 RSR-19 driven by Kevin Estre-Neel Jani-Michael Christensen captured pole in the Le Mans Grand Touring Endurance (LMGTE) Pro class, and the Cetilar Racing #47 crew of Roberto Lacorte-Antonio Fuoco-Giorgio Sernagiotto, driving a Ferrari 488 GTE Evo, will be at the head of the field in the LMGTE Am category.
The Bapco 8 Hours of Bahrain is scheduled for a 2pm rolling start at BIC on Saturday afternoon. It will feature varying conditions throughout the race, as it gets underway during the day before ending late at night under BIC's bright, state-of-the-art floodlights.
The pole for Kobayashi-Conway-Lopez put them in prime position to secure the drivers' Hypercar world title heading into the season-finale. They are currently ahead of their teammates on the standings by 15 points.
During today's qualifying, Albuquerque managed the LMP2 pole with a fastest lap of 1:49.525. Set to start in second is the #70 Realteam Racing crew of Norman Nato-Esteban Garcia-Loic Duval, while in third will be JOTA's Roberto Gonzalez-Antonio Felix Da Costa-Anthony Davidson in their #38 car.
In the LMGTE Pro category, Estre was behind the wheel for his Porsche GT Team crew, and he was able to post a fastest lap of 1:56.041. AF Corse's #51 challenger of James Calado-Allesandro Pier Guidi in their Ferrari 488 GTE Evo will start in second and Porsche GT Team's #91 car of Gianmaria Bruni-Richard Lietz-Frederic Makowiecki are third.
In the LMGTE Am class, Lacorte was in the driver's seat for their fastest qualifying lap of 1:58.712. Set to start in second and third, respectively, are AF Corse's #83 trio of Francois Perrodo-Nicklas Nielsen-Alession Rovera and Iron Lynx's #85 all-female crew of Sarah Bovy-Rahel Frey-Katherine Legge.
All three LMGTE Am top-placers are driving 488 GTE Evos.
Earlier in the day today, Toyota Gazoo Racing finished the WEC season's final practice session in first and second overall. Buemi-Nakajima-Hartley were quickest with a best lap of 1:48.346 in Free Practice 3. They completed 26 laps in warm, afternoon conditions. Kobayshi-Conway-Lopez followed 0.431 seconds behind.
Leading the LMP2 class with a best lap of 1:51.188 were JOTA's Gonzlez-Da Costa-Davidson.
Atop the LMGTE Pro timesheet were Jani-Estre-Chrsitensen with a fastest time of 1:56.590, while Team Project 1's Riccardo Pera-Egidio Perfetti-Matteo Cairoli led the LMGTE Am runners with a 1:58.696 lap.
In the weekend's second Free Practice today morning, Buemi-Nakajima-Hartley had a fastest lap of 1:47.673 for first overall, 0.527s quicker than their other car.
Leading the LMP2 class in the practice was the #29 Racing Team Nederland crew of Job Van Uitert-Giedo van der Garde-Frits Van Eerd with a best time of 1:50.513.
Daniel Serra-Miguel Molina of AF Corse were the pace-setters in the LMGTE Pro category with a lap of 1:57.509, while Christian Reid-Jaxon Evans-Matt Campbell were first for Dempsey-Proton Racing in the LMGTE Am class after clocking a quickest lap of 1:58.489.
Schuring powers to victory in season-opener Porsche sprint
Morris Schuring from the Netherlands triumphed in the season-opening race today of the 2021/2022 Porsche Sprint Challenge Middle East, being held in support of the FIA WEC Bapco 8 Hours of Bahrain.
Following a blistering start from third on the grid, he immediately overtook pole-sitter Bandar Alesayi from Saudi Arabia and headed the 23-car field into turn one.
Schuring was then able to distance himself from his closest competitors after a brief safety car period in the early stages of the 12-lap event, and enjoyed clear air all the way until the chequered flag.
Finishing 7.315 seconds behind him as the runner-up was countryman Daan van Kuijk, while Fahad Algosaibi from Saudi completed the overall podium-placers 9.259s back in third place.
The top eight was rounded off by James Dorlin from the UK, Alesayi, Lucas Groeneveld from the Netherlands, Nicolas Missilin from Monaco and Alexander Malykhin from Belarus.
All of the leading finishers were competing in the series' GT3 class. Team Bahrain's Shaikh Ali bin Mohammed Al Khalifa was 10th in the category.
Taking the GT4 class was Khaled Alahmadi of Saudi. He was joined on their podium by Leo Willert from Austria and compatriot Mashhur Bal Hejalia.
Schuring now hopes to ride his momentum into Saturday's second race, which is scheduled for a 12.15pm start.
Earlier today, Alesayi had secured pole position with a best lap of 2:03.805 in qualifying. He was 0.155s quicker than van Kuijk, while a further 0.004secs behind was practice pace-setter Schuring. Set to start at the front of the GT4 class was Wurz.
BIC's gates open on Saturday at 11am and will close at 11pm.
Tickets for the race cost just BD5 for adults and BD2.5 for children aged three to 12 years old. Kids under three are free, whilst there are also further discounts available for students, those with special needs and senior citizens.
Tickets can be purchased online at bahraingp.com or at the gate. They have been priced in a most affordable way in order to give fans a chance to experience a World Championship motorsport event.
Spectator entry policy for the race will be in line with the Kingdom of Bahrain's prevailing COVID-19 traffic light system. Under the current green conditions, entry is permitted to all.
Gallery