85 Days
Until Formula 1 Gulf Air Bahrain Grand prix 2023
Formula 1 Gulf Air Bahrain Grand Prix 2023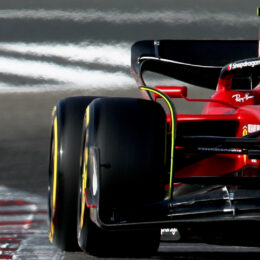 Event Overview
Tickets are now on sale for the 2023 Formula 1 Gulf Air Bahrain Grand prix with as much as 17% off in our Early Bird offer!
View More
Buy Tickets
Red Bull take Constructors' Championship in fitting tribute to Red Bull founder
Red Bull take Constructors' Championship in fitting tribute to Red Bull founder: Analysis of the United States Grand Prix, brought to you by Bahrain International Circuit
For a number of years now, F1 has wanted to treat each race weekend as a global sports and entertainment spectacle. A Superbowl 23 times a year is how some have described it. Perhaps unsurprisingly, Austin well and truly delivered on that with a weekend full of spectacular action on and off the track. If you weren't enchanted by Daniel Ricciardo arriving to the circuit on horseback, the crowds of celebrities including a comedian impersonator who did a better impression of Carlos Sainz that Carlos Sainz could do, the presence of Brad Pitt at the venue working on an F1 film project, then just the action on track would have been enough to satisfy the ever-growing US fan base and showcase what F1 has evolved into.
The 444,000 crowd which attended over the weekend (you read that right) witnessed a fitting Hollywood ending to the madness of the weekend. The race got off to a fairly measured start, with Verstappen coming from second on the grid to overtake Sainz on pole on the first corner. There was even more trouble for Sainz later that lap, as a collision with Russell, for which the English driver received a time penalty, put an end to a race in which he had high expectations. From then on, Verstappen looked in full control, as teams went through their expected two stop strategies. However, on Verstappen's final stop, an error fitting a rear tyre cost him some considerable time and he found himself behind Leclerc and Hamilton, who was now in the lead. Despite best efforts, Verstappen fought back in dramatic fashion, making use of his superior straight line speed to take the lead with six laps to go. It stayed that way, with Hamilton finishing an encouraging second, with Leclerc completing the podium.
Prior to that, Fernando Alonso had a dramatic collision with Lance Stroll, which the Canadian was later penalized for. Crashes at 180mph will always look dramatic, but this one really did show how far the development of safety has come in recent years, so much so that Alonso was able to get back to the pits and return to racing. His climb back up to finish seventh was a remarkable performance. Ultimately, however, this race will be remembered as Red Bull's first constructors win since 2013.
It's also worth noting that this was Verstappen's 13th win of the season, equaling the season record currently held by Sebastian Vettel. It's a reflection of the dominant performance of the team as they, by some distance, have developed the best car to suit the new 2022 regulations. What is becoming clearer however, is that other teams are working hard to close that gap and the performance of Mercedes this weekend was one example of that. The Brackley team are in the process of testing a number of new parts for the 2023 car and are already showing strong signs that they should be more competitive next year. With only three races left this season before the winter break, the early signs suggest that 2023 should be a lot tighter, something that fans will welcome. Indeed, it almost felt like the battle between Hamilton and Verstappen at this race –the first time this has happened this season – was a sneak preview in what to expect in 2023.
It seemed rightly fitting that Red Bull wrapped up their constructors' title win at this race, which came the day after the sad news of the passing of Dietrich Mateschitz. Verstappen dedicated his win to the Red Bull founder, who had an immense impact across the sport. Whilst he was someone who kept out of the limelight, his achievements spoke for themselves. Having purchased the Jaguar and Minardi teams in 2004 and 2005, he built a racing empire which went on to win four consecutive world championships as Red Bull Racing from 2010, in addition to their recent achievements in the last two years. The junior team, now AlphaTauri, also enjoyed some success, not least acting as a launchpad for so many young driver careers in the sport. He was also active across numerous other areas of motorsport and beyond and was responsible for the reconstruction of what is now The Red Bull Ring, the Austrian F1 venue which has become a firm favorite on the F1 calendar. His legacy will be everlasting and there are so many in the sport that owe their success to him, not least every team member of the newly crowned constructors' champions.
Images