85 Days
Until Formula 1 Gulf Air Bahrain Grand prix 2023
Formula 1 Gulf Air Bahrain Grand Prix 2023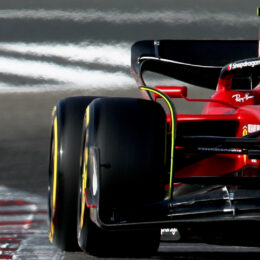 Event Overview
Tickets are now on sale for the 2023 Formula 1 Gulf Air Bahrain Grand prix with as much as 17% off in our Early Bird offer!
View More
Buy Tickets
Verstappen breaks records in Mexico
Verstappen breaks records in Mexico: Analysis of the Mexican Grand Prix, brought to you by Bahrain International Circuit
It's official. By the measure of most wins in a season, Max Verstappen has now driven the most successful season ever in F1 and the statistics are quite remarkable. His win over the weekend in Mexico is his 14th of the 2022 season, beating the previous record of 13 held by Michael Schumacher. This far eclipses the height of dominance from Mercedes in the early hybrid era, with Hamilton reaching only 11 victories in his best season. Overall, Red Bull has won 16 of the 20 races this year, taking their first Constructors' crown for nine years in the process. Let's also not forget that Verstappen took the drivers' championship with four races to spare. Yes, it's a reflection of an incredible impressive fast and reliable car, but it still requires exceptional talent to deliver, especially with such consistency.
As for those statistics, Verstappen would be the first to admit that the season win record was helped by the fact that there are a record 23 races in 2022. Back in 2004, the season in which Schumacher held the previous record, there were just 18 races. As an aside, the fact that Schumacher was so dominant in that 2004 season – Bahrain's very first F1 race – perhaps goes some way to explain why there are so many Ferrari fans in the Kingdom. In any case, the dominance and success of the Dutchman should not be underestimated, not least because the margin of victory in so many of the races has been remarkable.
On the subject of significant margins of victory, Mexico was a pretty good example of that from Verstappen. He got off to a solid start, despite the fact that Mexico is not necessarily the best place to start from pole due to the long run in to turn one. Hamilton managed to squirrel his way past his teammate into second, whilst Russell was further set back by the home hero Perez overtaking him on the first lap. From there, Hamilton managed to stay in close touch for the first stint. However, a switch to hard tyres for his only stop proved to be his downfall. Verstappen opted for a better performing medium trye and, whilst there was a risk they would not last to the end, he managed his degradation well. It meant that despite an improvement in overall pace from the Silver Arrows, Verstappen's lead was never truly under threat and so the final part of the race became somewhat of a procession.
Further back, Perez kept the home crowd fairly happy, completing the podium in third. Driver of the day was deservedly Daniel Ricciardo. Having started 11th, he was one of the few drivers to successfully move through the field on a circuit where overtaking is notoriously hard. His finish as the best of the midfield in seventh showed a lot of guts and determination. It was almost as if the 'old' Ricciardo had returned. Sadly for him, it has come too late this season as from next year will likely only have a test driver role for one of the teams.
The other major news of the week was that Red Bull, having accepted the cost cap breach as previously announced by the FIA, were given a $7 million fine and a 10% reduction in aerodynamic testing time for next year. As ever with such matters, some teams felt the punishment was not enough, not least because the fine does not reduce their 2023 budget allowance. At that same time, it should be noted that Red Bull, as champions, will already be subject to reduced aero testing time, so this additional 10% will make their testing programme even more limited.
With that matter now settled, attention will now go to the final two races of the season, with Brazil next up on 13 November. There is no doubt that Red Bull remain firm favourites, but there is glimmer of hope for the ever-improving Mercedes.
Highlights