7 Days
Until Phase 2 of Early Bird Ends
Formula 1 Gulf Air Bahrain Grand Prix 2023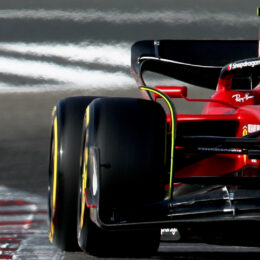 Event Overview
Tickets are now on sale for the 2023 Formula 1 Gulf Air Bahrain Grand prix with as much as 17% off in our Early Bird offer!
View More
Buy Tickets
Verstappen rides his luck as Ferrari falter in the swelter of Spain
Verstappen rides his luck as Ferrari falter in the swelter of Spain: Analysis of the Spanish Grand Prix, brought to you by Bahrain International Circuit
The Spanish Grand Prix was always going to have the potential for some surprises, being the point in the season where pretty much every team had brought significant packages of car upgrades. With the 2022 season bringing in an entirely new car, the potential for upgrades to make a meaningful difference to lap times is very significant. This meant that there was a huge amount to look out for throughout the weekend. Could Mercedes fix its porpoising issue and make progress up the field? Would Ferrari be able to close the performance gap to Red Bull? And which of the midfield could branch out in what has become a very hotly-contested area.
The other factor to consider was the weather. Whilst 35 degrees might not sound much to us in Bahrain as we enter into our summer months, it's a fair bit higher than what you would expect in Barcelona for late May. That all means higher tyre degradation, making pitstop strategy that much more important, with even the possibility of a three stop race. It also played into Red Bull's hands as they appear to be notably better at managing their tyres this season.
Qualifying gave some indication from Mercedes that real progress had been made. Porpoising on the car was noticeably reduced and Russell and Hamilton looked much more competitive, managing to qualify fourth and sixth respectively. At the top, it was the usual duel between Leclerc and Verstappen and it was the Ferrari that came out on top. Whilst a technical issue stopped Verstappen taking a final run, Red Bull admitted that the time set by Leclerc would have been very difficult to beat. Further back, Sainz was third, with Perez fifth. Notably, the Hass cars impressed, qualifying 8th and 10th.
When it came to the race, and apologies for borrowing a tired football cliché, it was a race of two halves. Verstappen and Leclerc had similar starts with the Ferrari easing into the first corner into the lead and it stayed that way for some time. With Leclerc fairly comfortable at the front, a rare error from Verstappen on lap nine sent him into the gravel, putting him behind Russell in an ever-improving Mercedes. Then followed 19 laps of top class driving from Russell, who managed to keep his Dutch rival at bay with wheel-to-wheel racing on almost every lap. Whilst he was helped by Verstappen's temperamental DRS system, it really showed his class to be able to endure such pressure and deliver precision racing in front of a car which was demonstrably faster. Such was the Red Bull frustration, Verstappen was pulled into the pits for a new set of tyres and some clean air.
All was looking good for Leclerc, as teams rattled through their pitstops; most teams ended up taking three throughout the course of race. However, on lap 27 disaster struck and a sudden engine failure finished Leclerc's afternoon. This handed the race to Red Bull, whose two drivers found themselves in first and second when all pits stops had been completed. Perhaps not surprisingly, Perez was given team orders by Red Bull towards the end to let Verstappen through. The explanation from the team was based on the fact that they were on different strategies, although that is perhaps slightly debatable. Despite that, Perez didn't seem to mind too much with Red Bull completing a one, two, with Russell an impressive third.
Hamilton managed an unlikely fifth, having at one stage being 19th, despite some reliability woes for both Mercedes and being hit early on by Magnussen. Overall, it was a much-improved weekend for the Brackley team. Given the structure of the race and various reliability concerns, it's quite difficult to pinpoint exactly how close to the frontrunners they have become, but they are certainly not a million miles behind.
Elsewhere, Sainz did give the home crowd something to cheer about (another whopper by the way, with over 250,000 fans attending over the weekend). Despite going off at the same corner as Verstappen earlier in the race, he managed to battle into fourth, splitting the two Mercedes. His fellow countryman and home favorite, Fernando Alonso, also impressed finishing ninth from 20th on the grid.
F1 is straight back to action this weekend in Monaco. It's always a highlight of the calendar and given the nature of the circuit you wouldn't want to predict a winner for this one, not least with the improvements shown by Mercedes.
Highlights