Formula 1 Gulf Air Bahrain Grand Prix 2023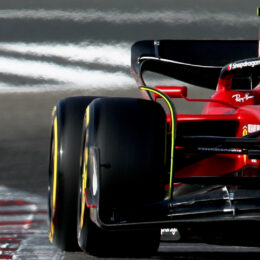 Event Overview
Bahrain has the honour of again opening the 2023 season, so fans in Bahrain will be the first to see the new cars, new driver line ups and all the uncertainty and anticipation that the first race of a new season brings.
View More
More info
Verstappen takes advantage of yet another Ferrari error
Verstappen takes advantage of yet another Ferrari error: Analysis of the Hungarian Grand Prix, brought to you by Bahrain International Circuit
Hungary has built a reputation of causing a few surprises. Remember last year with Esteban Ocon's debut F1 win? That rain-affected race also offered the incredible scene of a mid-race restart after a major first lap incident with Lewis Hamilton starting by himself on the starting grid, whilst other cars were changing tyres in the pits.
Qualifying this weekend offered a fairly sure sign that 2022 would be no different in terms of offering up surprises, as a track recovering from intermittent rain gave George Russell his first ever pole in F1. It was a quite remarkable Q3 lap, not least under the circumstances of the lead-up to the session. Toto Wolf had admitted that after a disastrous Friday, where the Mercedes team had struggled as much as ever, the team had been at the circuit until 11pm trying to work out what to do. There had even been discussions on the fundamental philosophy of the car and which development direction it should take. Whatever was discussed and acted on that evening, the results were dramatic. Hamilton would have been up there with his teammate, however a DRS failure on his last qualifying lap put him down in 7th.
A word also to McLaren in qualifying, with Norris fourth and Ricciardo ninth. It was progress for the Woking team, but they will still feel there is a fair way to go, not least due to improvements at Mercedes and others in the midfield. Elsewhere, Ferrari were second and third, with the Alpine's well placed in fifth and sixth. Verstappen had an issue in Q3, so would start tenth. The grid, therefore was well set for a hugely exciting race.
The top three all got off to a reasonable start, with Russell successfully defending his lead against the two Ferrari's of Sainz and Leclerc. Further back, Verstappen made short work of his challenge from tenth and got up to sixth after just a handful of laps. The leaders remained largely as they were in the first round of pit stops around lap 20 onwards, and after 30 laps Russell still had the lead, behind Leclerc and Sainz who had swapped places, with Verstappen improving into fourth with Hamilton just behind him. Leclerc finally took Russell around turn one on lap 31 and it looked well-set for a welcome Ferrari victory. However, at the second round of pit stops just after lap 40, Ferrari made the surprising decision to put Leclerc onto hard tyres and his pace seemed to drop off a cliff. This allowed Verstappen to take Leclerc and even after the Dutchman span off and lost his position, he still managed to reclaim his place and ultimately took the lead and victory of the race.
After last week's questionable strategy call from Ferrari, this latest decision seemed even more dubious, handing victory to Verstappen at a time when they desperately needed to claw points back from the world champion. Yet again, the post-mortem will be long and painful, as yet again Ferrari somehow managed to throw away victory from a position of strength. The simple fact is that to win a world championship, having a competitive car is not enough. Swift and decisive strategy calls, reliability and a fair bit of luck, much of which has eluded Ferrari, is what is needed to be at the top of the tree come the season end.
Whatever the results of the Ferrari work over the summer break, the numbers don't look good for them. With Leclerc finishing sixth, Verstappen now has an 80-point lead with ten races to go. We are way beyond the championship being in Ferrari's control. Put simply, it is now Verstappen's to lose.
Elsewhere in the race, Hamilton's alternative tyre strategy worked a treat. Saving his soft tyres to his final stint, he made light work of progressing from fifth to second, whilst Russell held out on worn tyres to complete the podium. Norris converted his promising qualifying pace to finish seventh, with the two Alpine's behind him. However, the story of the day was yet another questionable strategy call from Ferrari and one feels that the summer break can't come soon enough for the Scuderia.
The big news before the start of the weekend was the announcement from Sebastian Vettel of his retirement at the end of this season. Whilst the news itself was not a massive surprise, it was a chance for all those in the sport to recognize and thank him for his considerable input into the sport. With four world champion titles to his name, only Schumacher, Hamilton and Fangio have done better than that and he is third on the all-time race winner list. Without doubt he will go down as one of the greats of F1, not just for his racing record, but also his overall contribution to the sport, his work to support the evolution of F1, including on social and environmental issues. His personality, manner and quick wit will be much missed in the paddock.
F1 now takes its traditional summer break, with a return to Spa on 26 August. The break includes the mandatory 14 day shut down for team factories, where no car development is allowed. There will be plenty of time for reflection and forward-thinking for teams ahead of the second half of the European season, followed by the fly-away races to conclude the 2022 campaign.
Highlights