Formula 1 Gulf Air Bahrain Grand Prix 2023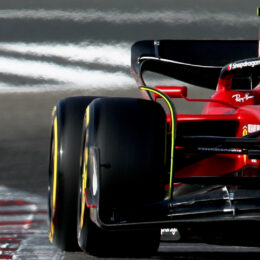 Event Overview
Details on the 2024 Formula 1 Gulf Air Bahrain Grand Prix will be announced soon. Pre-register now to be the first to hear about details for tickets and presale offers for registered customers.
View More
More info
Verstappen wins in Albert Park thriller
Verstappen wins in Albert Park thriller: Analysis of an action-packed Australian Grand Prix, brought to you by Bahrain International Circuit.
Every race on the F1 calendar inevitably will have something special and different about it. Whether that is the type of circuit and its racing characteristics, the timing of the race weekend or indeed a smattering of local culture which is injected into the race; each of these elements contributes to the individual nature of that race weekend. In the case of Australia, each of these factors are delivered in spades. It's technically a street circuit, but has many characteristics (high speed corners and run off areas) more in common with a purpose-built venue. The race takes place in the morning for the Middle East and Europe which makes for a difference for the TV viewership. Also, the race weekend and fan experience take in elements of Australian modern culture. It's no wonder it's such a popular race for drivers and fans alike.
The race itself certainly lived up to the high expectations. With three red flags, two safety cars, a dramatic start and an even more compelling finish, enthralling battles in the midfield and a hugely popular points finish for a local on debut, the Australian Grand Prix had everything.
Ahead of the race, qualifying produced one or two interesting results, not least that Mercedes clearly had made good progress since Saudi Arabia qualifying second and third, ahead of what remains an unstoppable Verstappen. Perez would have been up there, but a trip into the barrier in Q1 meant he started last. Alonso continued his good form, qualifying fourth, with Sainz, Stroll and Leclerc completing the top seven.
Whilst there had been intermittent rain over the weekend, the sun shone on race day and on paper it was set to be a one stop race strategy. That would assume a race without major incident, but the Albert Park track had other ideas.
At the start, Verstappen seemed to get off to a good start but Russell managed to take him into turn one, with Hamilton moving ahead also into second soon afterwards. For a brief moment it felt like the last couple of years hadn't happened and Mercedes were right back at the top. Whilst they are clearly making progress, it was only ever going to be a temporary arrangement. However, the manner in which Verstappen overcame the Mercedes pair and how the rest of the race unfolded what dramatic to say the least.
The first safety car was brought out early on in the first lap as Leclerc was tagged by Stroll and ended up in the gravel. Not long later, an Alex Albon accident caused a further safety car (which was a shame as he was performing well in sixth). George Russell and Carlos Sainz amongst others took the opportunity to pit, however when the safety car was changed to a red flag a lap later, those who had pitted lost out as a red flag gave the opportunity for free pit stops before the race resumed. The biggest victim was George Russell who slipped to seventh. His race would later be ended by an engine failure.
Back at the front, on the restart it was Hamilton followed by Verstappen then Alonso and Stroll. And it was this phase of the race where the Red Bull pace outshone the rest. Once DRS was enabled, Verstappen breezed past Hamilton in a move which showed that whilst the Silver Arrows were making progress, Red Bull still very much gave Verstappen wings – and from there he flew to victory.
It seemed like the race would be a walk in the (Albert) park from that point but a further red flag just three laps from the end, caused by a Magnussen visit to the wall, ensured some late drama. On the restart, Sainz managed to hit Alonso which caused carnage further back as the two Alpines collided. Cue another red flag. This time, however, there was just one lap remaining, which was required to be done under the safety car. Sainz was judged to have been at fault for the incident, so his fourth place was demoted to well outside the points. In-between that, a frantic look through the rulebook dictated the revised restart order for the processional finish.
Hamilton will have been more than content with his second place, and equally Alonso with third place. The Podium comprised three people with a combined 11 world championships. Quite a stellar line up. Further back, Stroll brought the other Aston Martin home in fourth and Perez fought his way back from the back for an impressive fifth. Landon Norris reflected a much-improved McLaren into sixth and a word should also go out to home hero Oscar Piastri who finished eighth, taking his first ever points on F1 at his home Grand Prix.
Overall, this was a race that will live long in the memory. 440,000 fans flocked to the venue over the race weekend, who were duly rewarded. F1 takes a break now until The Azerbaijan Grand Prix on 30 April.
Images